If you're wondering what to pack for sailing trip then that must mean you have an amazing trip ahead of you! Sailing is one of the best ways to travel, and one of the best ways to relax too. It can take you to places that ordinary travel can't and give you experiences you'll remember for a lifetime.
What to pack for a sailing trip is a great question to be asking, because packing for a sailing trip is a little different to packing for a normal holiday. There are a lot of extra factors you'll need to consider.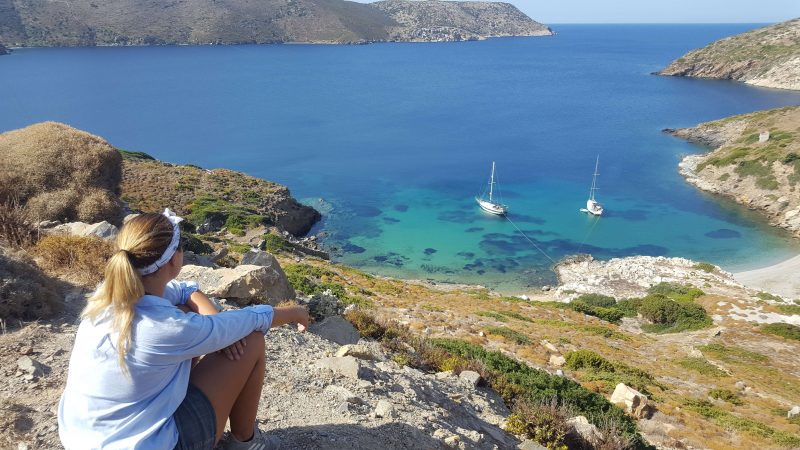 We put together this handy guide on what to pack for a sailing trip to help our crew members, and we've added it on here so you can benefit from it too (scroll down to download our free packing list printable)! Hopefully you'll already have a lot of the things listed here lying around at home, but we've linked to items on Amazon for quick and easy delivery in case there's anything you're missing!
---
Why Is Packing For A Sailing Trip So Different?
When packing for a sailing trip there are a few key things that will make your decisions about what to take different to that of a normal holiday.
To start with, the weather will pay a much bigger part in your holiday experience. You'll be outside for the majority of your time away, and out at sea the weather can be a lot more extreme than on land. Things like the strength of the wind can play havoc on the temperature, so even if you're off to the tropics you'll still want warm clothes for when the wind picks up.
Space will also be a big factor when considering what to pack for a sailing trip. Basically, you won't have any! A lot of cabins are literally just a bed and maybe a shelf. You really won't have room for a lot of stuff, so the things you do pack need to be carefully thought out, mostly essential items.
Your sailing holiday will be a true adventure. Pack with this in mind. You might well get lovely, calm days where you can lounge around in a smart bikini. You might also get some questionable weather where your clothes will get wet, dirty and possibly even ripped and ruined. Think adventure when choosing your wardrobe and you'll be prepared for any eventuality!
---
Things To Consider Before You Pack For A Sailing Trip
Before you start packing for your sailing trip there are a couple of things you'll want to consider.
---
What To Pack For A Sailing Trip Will Depend On Where You're Sailing!
Obviously if you're off sailing in Iceland you're going to want to pack slightly differently for a sailing trip in the Bahamas! Unfortunately no matter where you're heading you'll still want to bring some layers and some wet weather gear, but if you're heading to Greece in the summer then you'll need mostly warm weather clothes.
You should also roughly plan any activities you might want to do on your sailing holiday before you pack. For example, if there are great treks in the area then you'll want some walking shoes. If there's diving you might want to bring your own wetsuit. A little research will help you pack the essentials, rather than trying to pack for every possible event.
---
When Are You Going Sailing?
Everywhere has different climates or weather patterns depending on the time of year. Europe for example will be warmest and most settled in July and August, where as in Australia at this time of year it's the winter! Asia experiences rainy and dry seasons.
Research what the weather will most likely be like in the area you're sailing at the time of year you're heading there to help give you a better idea of what to pack for a sailing trip there.
---
Check What's Already On Board Before Packing For Your Sailing Trip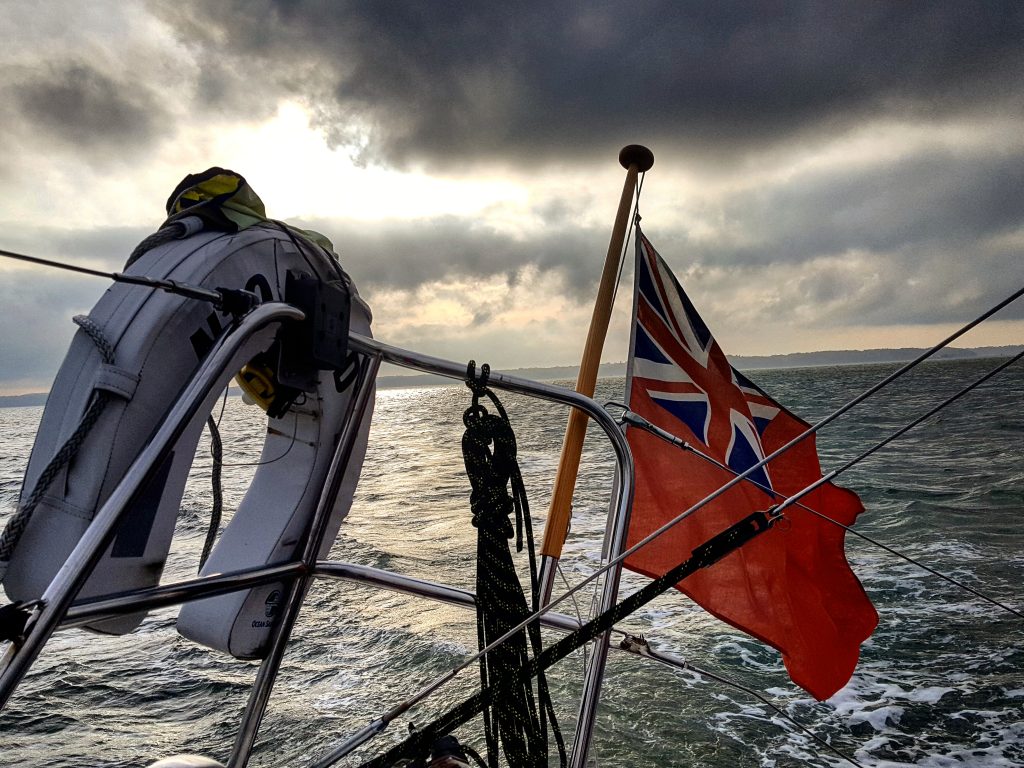 Find out as much as you can about the sailboat you're staying on before you arrive. If you're going to stay with friends or you're crewing for someone that lives aboard then the chances are that they'll already have some of the essentials.
You should find out whether the sailboat you're staying on has enough decent quality life jackets for all the crew members, and whether it's equipped with basic safety gear like a life raft and floatation aids. Any sailboat you're chartering should have this basic safety equipment at standard, but it's worth asking the question before you arrive just in case!
You can also check whether there'll be things like towels and basic galley equipment so that you know if you need to bring these items.
---
The Sailing Packing List Essentials
Passport and Visa – Passport is obvious if you're heading abroad, but make sure you also check a while before you fly what the visa requirements are so that you have time to go through any arduous visa applications.
Travelers Insurance – This is a really important one for a sailing holiday. We struggled to find an insurance company that would cover us for sailing, though we only found out we weren't covered for this activity after reading all the small print! We eventually found that World Nomads would insure us for sailing so they're the company we now use for our long term travel. Get a quote below, or find out more here.
Cash & ATM Card – When you're on a sailing holiday some of the best places to visit are a little off the beaten track. Make sure you pack some cash for the times you wash up at a little beach shack bar and really fancy a cold beer!
Medications – Take more than you should need of any medication, and if it's really important medication then take your prescription too just in case.
A Second Pair Of Glasses – If you wear glasses then take a second pair with you on your sailing holiday. Glasses get lost over board or broken so easily on a sailboat and it's the last thing you want to be trying to replace while on holiday!
---
Electronics To Pack For A Sailing Trip
How much access you'll have to the internet and power while on your sailing trip will have a lot to do with where you're sailing, where you choose to anchor or moor and how well equipped with solar and wind generators your sailboat is. If you're chartering a boat then the charter company should be able to answer these questions for you.
It's a great idea to bring several portable chargers with you when you pack for sailing. If you end up with very little power on board then you can charge these portable chargers at local cafes to ensure you have access to some power on board.
Try not to pack too many electrical devices. Not only will they use lots of power but there is also a pretty high chance they'll get damaged unless they live in waterproof cases or bags. Only bring electrical items you consider essential. For us, that would mean:
Mobile Phone – To stay in touch with the outside world, for emergencies and to get things like weather updates and to find nice anchorages (check out the top apps you should download for sailing before you head off on your holiday)
Headphones – These are a great way to create distance when there is none! We use headphones all the time on board HC to 'zone out'. It sends a clear signal that you want a few hours alone time. Sign up for a free trial of Audible and download a few audio books to listen to while you lie back in a hammock with a nice cold beer!
Camera– You're going to want to capture memories while you're on the trip of a lifetime. Take a decent camera. The Go Pro range cameras are perfect for sailing as you'll be able to capture all the adventure in great quality – we love taking these snorkelling with us.
Kindle – There are a lot of moments when you'll have time to chill out, especially when the seas are calm and the wind is light. Take a waterproof kindle with you instead of a book to save space on board.
---
Sailing Trip Packing List – Luggage Bag
Yes, this does deserve a special mention and a whole section all to itself!
When packing for a sailing trip you need to choose your luggage bag very carefully. DO NOT bring a hard suitcase or rolly bag. The only kind of luggage that should be boarding a sailboat is a bag that will fold down. There is no space whatsoever for hard luggage bags! A travel backpack or duffel bag is your best bet.
You'll score extra bonus points if that
" target="_blank" rel="noreferrer noopener nofollow">luggage bag is waterproof, as chances are you'll be shoving it in the bottom of a slightly soggy dinghy to reach your sailboat accommodation.
Clothes To Pack For A Sailing Trip
For some extra advice about what to wear sailing check out this detailed guide, which will talk you through things like the best colours for sailing and give you some idea of the kinds of essential clothing you'll need on board.
Because space is such a premium you might want to consider packing your clothes into compression bags to help you save space (or enable you to bring a few extra items!)
I won't go into why you need things like t-shirts and underwear here, but I'll list some of the clothing items you may not have considered! All the essentials are included in the sailing packing list printable sheet though.
---
Swim Wear
You will of course have packed your swim wear, but make sure you bring more than just a few pairs. I would say a minimum of three items of swim wear for hot weather countries, as it's what you'll live in on a sailboat. That's one pair for a morning swim, one pair for an evening swim and one pair to wear around the boat.
Chances are you'll want to change straight out of your wet swim wear as where ever you sit you'll leave a nice soggy patch! And putting on wet swim wear is just the worst! So take more than you think you'll need – they're small and light so it won't affect space in your packing too much.
---
Shorts
Sailing involves some great gymnastics. Climbing on and off the boat, getting in and out of the dinghy, leaning over winches and clambering over lines. Shorts are the most practical sailing wear in hotter climates, so you'll want a couple of pairs of these. If you bring board shorts they can double up as swim wear too and save on space!
---
Sun Cover Ups
There isn't always the best shade on sailboats so try to bring a few items of clothing you can use to cover yourself. Something like a lightweight UPF shirt works perfectly, as you can shove it over whatever you're wearing and protect your skin. You could also use a scarf or sarong, but these aren't as good as they don't stay in place and tend to float around a bit in the wind.
---
Polarised Sunglasses
Polarised sunglasses are an essential item for sailing. They give the best protection from the sun while you're on the water, and they make seeing into the water a whole lot easier too! You'll be very thankful you added these to your sailing packing list!
It might be worth buying two pairs if you're anything like Adam and I, as they end up straight in the sea. Cheap pairs like the ones above are perfect for sailing – they're bound to get trodden on of fall overboard – so don't bring sunglasses that are worth anything!
You should also get yourself a lanyard so you don't lose them peering over the side!
---
Sun Hat
Getting a sun hat for sailing is something you might want to spend a bit of money on. It doesn't need to be expensive, but it does need a few specific features to make it useful when you're on a sailboat. We've written a detailed guide on the best hats for sailing, but as a short guide you'll want a hat with a cord so it doesn't blow off, and one with a stiff medium sized brim that will protect your from the sun but that won't blow up or down in the wind.
---
Rain Gear
Sadly you can't control the weather, and although I have all my fingers and toes crossed for you, you might get some rain on your sailing holiday. The only thing you can do is be prepared for a downpour. Bring a decent rain and wind proof jacket just in case. It's hard to warm up on a boat once you're soaked through so you'll be pleased to have something keeping you dry and warm.
---
Buff
A buff has become a sailing and travel staple for me. They're such handy little things and yet they're so light and small. Having a buff on hand to keep your face and ears protected from the wind is so useful, and it fits into a pocket or round your wrist if you don't need it. They also work great as sun protectors for your neck, and you can even wear them snorkelling to keep your neck shaded.
---
Gloves
If you plan on working the lines then you might want to consider bringing a pair of sailing gloves. The lines on a sailboat can be tough on your skin, and as a new sailor I got more than my fair share of rope burns. Wearing sailing gloves really helps.
---
Going Out Clothes
It's easy to forget that you will be getting off the boat at times! In the sailing community people rarely dress up, so it's unlikely you'll come across anywhere with a dress code. That being said, it's nice to have a few outfits that aren't covered in salt water for evening meals or drinks out. Bring a sundress or a nice shirt to wear out on the town!
---
Shoes
Most people will go bare foot on a boat but some prefer to wear shoes for sailing – especially when you don't know a boat well! If you're chartering a boat then ask them about their shoe policy, as many won't allow you to wear shoes on board due to scratching and marking on non-slip decks. If you will be wearing shoes then get a pair with non-marking white soles and make sure they're grippy!
You'll also want shoes for off the boat. A pair of walking sandals will do you for most occasions and mean you can save space on packing. Remember that you'll probably be climbing out of dinghy's into the sea, so bring shoes you can get wet or be prepared to put them on on sandy beaches!
---
What To Pack For On Shore Adventures
As well as needing things for the actual sailing, you're going to want to pack for the adventures you'll be having too. One of the amazing things about sailing is the destinations it can take you too, and of course the underwater adventures too. As well as taking an action camera to capture it all, as listed above, here are a few more sailing packing essentials.
Waterproof Backpack
Alongside your bag for your luggage you're going to want to bring a waterproof day bag for taking to shore. Make sure this bag is waterproof, not just water resistant. Dinghy's aren't known for their sturdiness, and even if you don't end up falling in the sea, you'll probably get a fair few splashes at some point. Keep your valuable safe and dry with a proper 'dry' bag.
Our favourites are the ones built to be rucksacks so we can take them trekking, but you can get over the shoulder designs too.
Wetsuit or Rash Guard
If you burn easily or plan on spending lots of time in the water (what else would you be doing with your time!) then consider taking a rash guard or light wetsuit as sun protection. No matter how much sun cream you lather on people always burn in the water and having shoulders and backs covered is a great way to prevent it.
Snorkelling Gear
Many charter sailboats will have sets of snorkels on board but the thought of using someone else's always creeps me out a little. The other downside to borrowing is that they're usually broken, and that's such a pain! Snorkel sets aren't too expensive so think about adding them to your sailing packing list.
What To Pack For A Sailing Trip Extras
When deciding what to pack for a sailing trip, here are a few extras you might want to consider to make your trip really memorable.
---
Water Bottle
People never drink enough when sailing, which can be pretty dangerous, especially if you've just arrived somewhere hot. By bringing a water bottle you'll be reminded keep drinking. A flask like this will keep cold drinks cold and hot drinks hot – perfect for the changeable sailing conditions! You can swap between cold iced teas and warming coffees.
---
Sea Sickness Tablets
Our sailing examiner told us there's a hull shape and a sea state for everyone. I am yet to find mine, but Adam's so far is every boat and quite a few sea states! Even if you've never been sea sick before it's worth preparing for it just in case, as Adam will tell you it's the worst feeling in the world!
If you have a method that you know works for you then great. If not, it might be worth taking a few different preventative measures just in case, as different things seem to work for different people.
Stugeron works wonders for Adam. You can try these sea sickness bands, or patches behind the ear. You can also try taking ginger to chew on or ginger supplements.
Other things to try if you find you're badly affected – eating before going to sea, helming the boat if you feel you're getting sick, lying down in the cockpit and closing your eyes or sleeping if you can, getting in the sea (if it's safe to do so!)
Whatever you do, don't go below! And if you need to be sick then make sure you're in a safe place – don't risk going over board just to save your dignity!
---
Reef Safe Sun Cream
You're going to be in and out of the water constantly so bring a reef safe sun cream and take care of the ocean you're getting so much enjoyment from.
---
Travel Wallet
If you're travelling to unfamiliar countries then it's always a good idea to take a travel belt to keep your valuables hidden and safe. I love this scarf with a hidden pocket, as there's never any pockets on women's clothing and I hate having to take a bag everywhere! You can also get little travel wallets that fit round your neck with built in protection features.
---
Swiss Army Knife
Hopefully there will be knives on board, as they're always handy to have around on a sailboat, but take a swiss army knife just in case. These are so handy for travel and we never go anywhere without one!
---
Travel Medical Kit
Even if the sailboat has one on board, it's always a good idea to bring your own. That way you know what's inside and you can be sure you have the things you might need in an emergency. As a minimum bring some plasters, antiseptic wipes, bandages, a cold compress and some basic medication like paracetamol, ibuprofen, antihistamines and diaralyte!
I always make sure we have rehydration sachets on board too, as the extreme change in temperature and a busy lifestyle can lead to people forgetting to drink enough!
---
Cards (or a travel game)
Without electricity (or limited electricity) it's nice to have the option of something else to do in the evening. Card games are great because they take up hardly any space and there are so many different games you can play with just one pack.
---
What To Not Pack For A Sailing Trip
Rigged suitcases or cases with a frame
Hair dryers / straighteners – unless you're staying in marinas with shore power
High heels – I guess you could change into them, but they won't be any good on a boat, the beach or slotted marina docks either!
Any expensive clothes or jewellery
Any clothes that aren't durable
---
Did We Miss Anything On This What To Pack For A Sailing Trip Guide?
Let us know if we missed anything from this 'what to pack for a sailing trip' guide and we'll be more than happy to add it!