How to learn to sail for free (or at least for cheap) is a commonly asked question. Sailing can be a really expensive sport to get into and that makes it much harder to learn unless you know how.
As someone that grew up miles from the coast, and with no friends that sailed, I found it hard to know where to start. I knew I loved being on a sailboat from various day sails on holidays in the sun, but I had no idea how to actually go about learning.
---
How To Learn To Sail For Free
Since taking the plunge and moving on board with hardly any experience I've learnt a lot about how to learn to sail for free, and I can promise you it is possible. You just have to know where to look and how to go about it!
I've put together some ideas for you below. They won't all suit everyone, but hopefully you'll find an option for you so that you can get started on your adventure of a lifetime asap!
---
Crew On Someone Else's Sailboat
One of the most popular ways to learn to sail for free is to hop aboard someone else's boat. Join sites like Crewbay or Crew Seekers and set up a profile. There are also several Facebook groups you could join like 'sailboat hitchhikers and crew connection'.
Some people expect you to pay to crew on their boat. Others are happy for you to pay for your food and split the costs of marina fees for longer journeys. Others will cover all costs. Make sure you are clear on what's being offered before you accept.
When filling out your profile make sure you include your availability, where you can get to and an honest account of your experience including your experiences with sea sickness / cooking on board / swimming. If you have any desirable skills you can offer in return then make sure to include these too – things like diving qualifications or water sports, speaking multiple languages, playing an instrument or fitness instruction are all useful skills on a sailboat.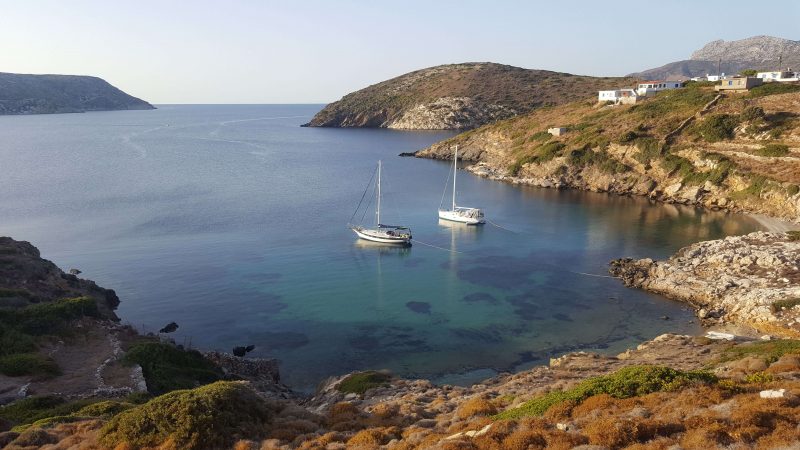 Remember that applying to be crew on someone else's boat means you want to form a useful part of a team. You're not there to sunbathe on deck or be handed cocktails. You'll need to take instruction well and be prepared to chip in with all parts of sailing – even the not so glamorous jobs like cleaning or fixing things. Life at sea is very different to life on land. Even if you ended up spending all day below deck while someone else was actually sailing, there would still be plenty to learn about being on board a sailboat that would be so useful for your learning to sail journey.
Take what you can get and soak it all up!
---
Get A Job Or Volunteer At A Marina Or Boat Yard
If you live close to the sea or a large lake then do whatever you can to be around others with boats. Not only will you learn a lot just from hearing their stories and advice, but you'll also make friends with people with an interest in sailing. People who spend time in the marina will probably have their own sailboats they can take you out on once they get to know you and your enthusiasm. The sailing community is a kind one, and sailors will generally be keen to introduce others to their passion.
---
Join Work Away
You might have to get a little lucky with Work Away, as people living on sailboats and advertising for crew opportunities aren't the most common, but Adam and I found several potentials when we were looking to learn to sail for free.
Work Away is a website where people can advertise opportunities for unpaid work in exchange for things like bed and board (or in your case free sailing lessons!) It might be that sailors need a crew member to help out, or that they need help with maintenance, or we even found a sailing opportunity where a family of liveaboards needed a nanny.
You won't pay anything until you decide to join the website, and that's usually because you've found an opportunity you want to pursue.
If you own your own sailboat you could always advertise for a sailing instructor in return for use of your sailboat.
---
Buy A Sailboat And Learn To Sail For Free
This is perhaps one of the harder options, but if you already know you want to sail then it might be the best. Although this certainly is a 'free' way to learn to sail if you count the cost of the boat, it might well be a way to get free sailing tuition.
If you have the money to invest in a sailboat (the smaller the better if you're just starting to learn) then there are many reasons why this might be the best option for you.
Firstly, with your own sailboat you will almost certainly find free sailing tuition. There are many experienced sailors out there who don't have access to a sailboat, or who have to pay to use one. A lot of people would be very willing to take you for days out on the water in your boat, while you learn to sail from them. It's a great two way trade. They get free use of a boat and you get free tuition.
Secondly, once you've learnt the basics you'll already have a boat in which to practice. Hiring out sailboats can be expensive and sailing a new boat every time can be daunting. You'll know how your boat works, and even better, you'll have started learning how to upkeep and maintain it too – which is at least half the battle when it comes to learning to sail!
If you have your own boat then you'll be keeping it in a marina or yard, which means you'll be spending time around lots of other sailors. This was invaluable for Adam and I, and most of what we have learnt about sailing has been from hanging around with others with sailing stories to tell. It's worth the marina fees just to be surrounded by people who love to talk about boats and sailing.
---
Read Up On Sailing Before You Learn To Sail For Free
Buy a few good books on sailing before you go. These will be valuable throughout your sailing life and are a small investment on the journey to learning to sail. We've put together a list on thebest books for sailing for beginners, but if you can only invest in a few for now then go for a cockpit companion (not an actual book but a very cheap and extremely useful prompt for learning to sail) and the RYA learning guides.
In our opinion these have been the most useful books on learning to sail and will continue to provide you with useful information as you progress with your skills.
Learn The Basics Online
There's a lot you can learn about sailing before even stepping foot on a sailboat. NauticEd offer two online courses for free – the theory behind how to use the sails and collision regulations, both of which are extremely useful things to know before going sailing. Another great way to learn more about sailing life is to watch YouTube videos by others who are living life at sea. It's amazing how much you can learn about sailing from your sofa these days!
---
Before You Learn To Sail For Free
These are all great ways to learn to sail for free, and I don't want to put you off, but I think it's wise to include a little disclaimer here.
If you aren't learning to sail through a sailing school then you will be putting your trust into someone who isn't necessarily qualified. That's not to say the person teaching you to sail isn't just as capable and experienced, just that they haven't been trained. There are a few things it might be worth doing before you rush off sailing with a complete stranger.
Make sure you get to know each other a little first and make it clear that you don't have any previous sailing experience. You'll quickly work out whether they seem like someone you can trust or not, and they'll quickly work out whether you're someone they'll be able to get on with on the water.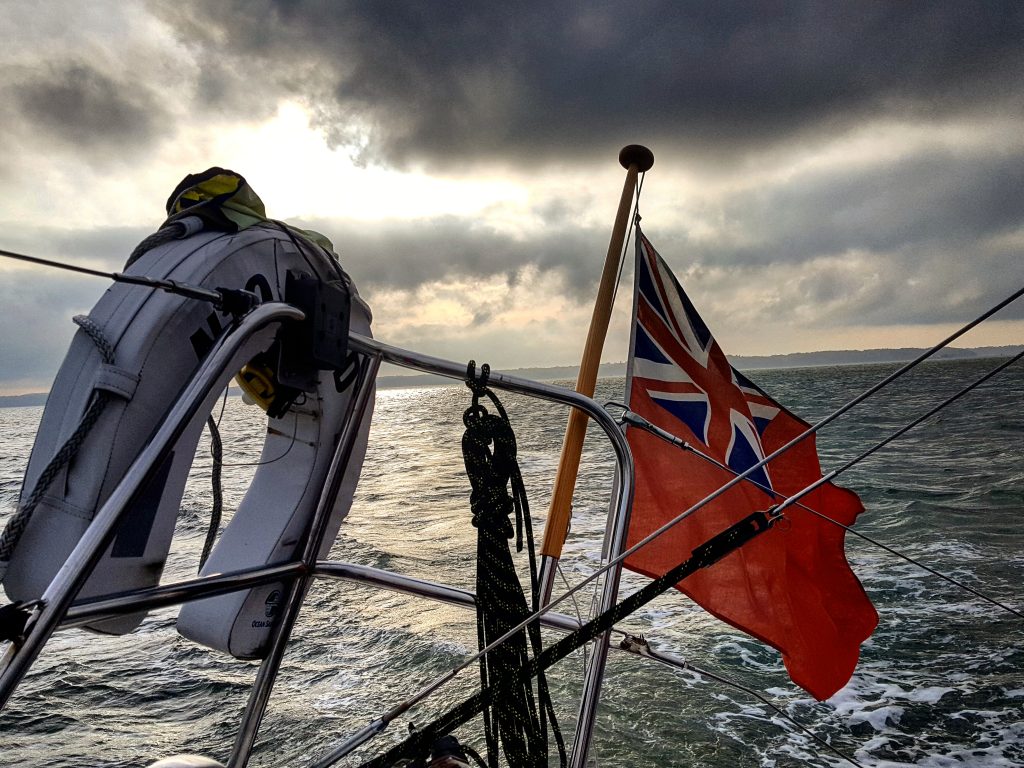 Go for a day sail or two first. When you head out sailing with a stranger you'll want to stay close to port for both your sakes. It's probably nothing personal, you might just not click. But the worst thing for everyone involved is to find yourself in the middle of an ocean with someone you hate, or even worse, someone you don't trust.
Remember that sailing can be really stressful at times. Raised voices don't mean all that much out on the water – except to say do exactly what I tell you and do it now. Be fully prepared to do exactly what you're told when you're not in charge of the vessel. If you're someone that doesn't take instruction well then it might be worth paying for expertise.
Are you happy with the sailboat? Just because you're a beginner that doesn't mean you should be prepared to compromise on safety. If you're serious about learning to sail then buy yourself your own life jacketand get to know it well, and some wet weather gear.
It would be worth putting together a little day bag with some safety essentials such as a first aid kit, some snack bars and water, aheadtorch, penknife, phone and charger and money and ID and any other essentials you think might come in handy. Make sure the skipper does a full safety briefing with you before setting sail so that you know where things like fire extinguishers, life raft and rescue slings and stop cocks are.
---
With a little determination it really is possible to learn to sail for free – and trust me, the sooner you get on with it the happier you'll be. There's no better feeling than being out at sea on a sailboat and knowing the ropes. Even if you never get to the point where you can skipper the boat, being a useful member of crew is a great skill to have and one you won't regret putting in a little leg work to achieve!
Let us know about your sailing journey in the comments below.