Waterproof sailing bags are an essential item for life out on the water. Before we moved aboard I didn't realise quite how much I would use a waterproof bag while living on a sailboat. Sure, I assumed I'd use a sailing bag for trips to shore when carrying items that couldn't get wet, but I had no idea how often I would use it as an essential piece of equipment actually on the sailboat.
---
What Will You Use A Waterproof Sailing Bag For?
Before we head off sailing I always grab our sailing bag to keep up in the cockpit. It's specifically for sailing days and I store in there things like binoculars, a horn, sun cream, water and snacks. Basically anything I think I might need if the weather gets rough and I don't want to keep heading down below. It's been amazing to have to hand in a number of situations.
I also have a sailing bag for day trips to shore, to take in the dinghy. I learnt quickly never to jump in the dinghy with anything less than a waterproof bag when the weather turned choppy and all my electronics got soaked on one of our first dinghy rides back!
The other things we use a waterproof sailing bag for is our grab bag should we ever have to abandon ship, and our medical kit so that things like plasters and bandages don't suffer from damp. We've even needed a waterproof bag to run a phone up the mast for internet signal on a rainy work day!
Waterproof sailing bags really are an essential item to have on a sailboat, and we've narrowed down the best out there to make like a little easier for you!
---
Waterproof Sailing Bags For Sailing
If you're using your waterproof sailing bag while you're out sailing then you'll want it to be big enough to hold essential items but small enough to fit comfortably in the cockpit. We'd also recommend getting one in a bright colour and having in mind some way of attaching it to something on deck so it can't fall overboard.
---
Earth Pak
Earth Pak are top sellers when it comes to dry bags. They come in a range of colours and sizes, and they're 100% waterproof and rugged too. The great thing about this design of dry bag is that it will float, because it's full of air. So you don't need to worry as much about it going for a swim!
They come with a shoulder strap, which we don't love, but they are the perfect bag to have on board and stow in the cockpit or use as a grab bag (we attach the strap to the binnacle so it can't go anywhere! If you're using them for this then get one in a bright colour so they're easy to find in a hurry.
---
Skog Å Kust DrySåk
If you're after something a little more fun then these are a great choice. They come in a range of cool designs and, for a cheaper dry bag, they have some thoughtful features too.
This is a rugged and waterproof bag designed to be used in the outdoors. It has an outer zip pocket for quick access to things like your mobile phone which is really handy. It also has a reflective trim which is great for night sails! It comes in a range of sizes too, so you can decide what's right for your needs.
---
Ronstan Waterproof Sailing Bag
The bright red Ronstan Dry Sailing Bag features leak-proof welded seams and includes sturdy side carrying handles and removable backpack straps. This is a great option for a sailing bag to store in the cockpit because it's bright red, meaning it will be easy to get your hands on, and easy to locate if it takes a little dip! It's pretty big though, so you might want something smaller depending on the size of your boat!
---
Waterproof Sailing Bags For Adventures
Dry bags don't have to look like dry bags anymore! We love the fact you can now buy waterproof sailing bags that look like normal rucksacks – they're perfect for trips to shore where you don't necessarily want to be lugging around a bright red shiny duffle bag.
You're cockpit sailing bag can probably double up as a day bag for shore, but if you live on board or sail regularly then it's much easier to have a bag that all your sailing stuff just lives in so you can grab and go.
---
Outlander Sailing Bag
Outlander bags are our top pick for budget friendly adventure day bags. The Outlander Backpack is made from highly rip and waterproof nylon fabric that provides strength and long-lasting performance with minimal weight, making it a great option for trekking or hiking. We do find the zips a little annoying, as they're a break point that isn't really necessary in a dry bag (but at this price who cares right!?)
One of the great things about these bags is that they can literally fold down into your pocket, so they're perfect for things like grocery runs – fitting into a larger bag so that you have two when you get to the checkout. They also have a load of pockets including a safety pocket which is great for travel. These are our favourite budget option as they're cheap enough to have a few on board just in case.
---
Mier Waterproof Dry Bag
The Mier dry bag is a great option for a sailing day bag. They have a roll top closure so you don't have to worry about metal zips and salt water and they're 100% waterproof. They have a compartment for a laptop or tablet which is really handy if you work from the shore. They also have several outer pockets which we find perfect for a water bottle. You can even carry extra things in the bungee cords on the front making this bag bigger than it seems.
This is one of the more comfortable waterproof sailing bags we've reviewed here, with padded straps and the option to hand carry with the fold down rubber strap at the top. We also love the look of this waterproof rucksack – there's a lot to love!
---
Geckobrands
Geckobrands have a nice backpack for sailing day adventures on shore. It's super light weight but still pretty tough, and it's waterproof of course! It has a water resistant pocket to store smaller items, and 2 D rings to attach things like water bottles if you need. The straps aren't as comfortable as other waterproof sailing bags but we like the way it looks, and it's useful that it's so lightweight!
---
Waterproof Bags For Smaller Items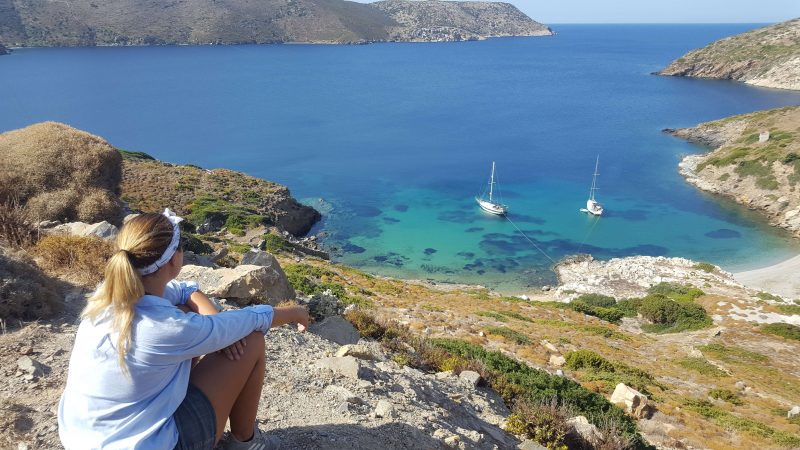 There's always something that you want to protect from the sea and rain that's a little smaller – usually your mobile phone.
Having lost a mobile phone to the damp of the sailboat I thoroughly recommend regularly storing your phone in a waterproof case. They're very cheap and they work brilliantly, so it's a win win really. They're also really handy if you want to swim to shore or you can even take photos in the sea (though the quality doesn't come out great through the plastic!) There are a million different ones to choose from and I'm sure most work great, but we love this one.
You should also consider getting some smaller, cheaper waterproof bags for other random things like items from a medical kit (the clear ones are great for this as you can write on them in permanent marker and see the contents too).
You can fill these with air before you roll them up – great for carrying things like keys and shoes to shore when you want to swim there and head off on a short hike. I've managed to stuff in a summer dress, my phone, keys and wallet, then I swam to shore with my flip flops on my hands, dried off on the beach and had a lovely day exploring the town!
---
Larger Waterproof Sailing Bags
Larger waterproof sailing bags are perfect for getting luggage on and off a sailboat. They're also really handy as grab bags if you have a larger sailboat. They have to be able to store easily, and be easily moved on and off the boat.
---
Helly Hansen Waterproof Sailing Bag
The Helly Hansen waterproof sailing bag has been designed with sailors in mind and is perfect for days out at sea. It's a great size for packing for a weeks sailing holiday or for a weekend on board but it's also a useful bag to have on board for storage and land trips as it can fold down pretty flat. It has adjustable back straps and grab handles on the side to make it easy to get on and off the boat and it has a useful outer pocket too. This is a very well designed sailing bag.
---
Columbia 60l Waterproof Sailing Bag
The Columbia waterproof sailing bag is a truly rugged waterproof bag with a water resistant zipper and reinforced seams. It has multiple haul handles and lash down points and removable padded shoulder straps that convert into a single haul handle. One of the really great features of this waterproof sailing bag is that it packs into a removable interior accessory pocket for easy storage on board.
---
So there you have it – our top recommendations for waterproof sailing bags to make your life aboard a whole lot easier (and a whole lot drier too!) If you have any to add then let us know in the comments below!
---