Golden sandy beaches, hidden coves, white cliff arches and hillside towns – Greece's top 10 anchorages haven't been easy to narrow down.
It's taken a long time to write this article, mostly because every time I think I can confidently list Greece's top 10 anchorages I go and remember another that just has to be included.
You can deduce two things from this. That I'm super indecisive, or that Greece is just full of the most incredible anchorages.
We've based our decision for Greece's top 10 anchorages on a few different factors. Beauty, variety (we wanted to pick a range of different places – from towns to the remote), and ease of anchoring. Though we have to admit that some of the best anchorages in Greece haven't been the easiest – but they're worth it, promise!
---
Greece's Top 10 Anchorages
We haven't explored the whole of Greece (yet), but we've covered a good chunk of it over the last few years and we've found these top runners for the best anchorages in Greece.
---
#1 Kioni
As you enter this large bay you're treated to all round views – a little taste of what you'll find on land. Rocky hills to starboard, windmills and coves to port and straight ahead you'll find a beautiful tumbling seaside town. This place deserves a spot in Greece's top 10 anchorages!
There are several options for anchoring. Stern to on the port side as you come in, either in the first little cove where there's a small tree lined beach and a little shack bar that serves delicious evening meals every Friday night, or further into the bay tying off to the rocks. You can also Med moor in the town itself though it does get pretty crowded here at times.
In the town itself you'll find a small beach lined with restaurants and pretty boutique stores. There are a large number of handmade jewellery stalls and a lovely bakery. There's also a small grocery store where you can get all the basics.
You could easily spend a really relaxing day just wondering the little town, popping into different cafes and dipping your toes in the sea. If you're feeling active though you should head into the hills to see what the countryside has to offer. There's a map on the edge of town detailing numerous walks on the island that start from Kioni. It details roughly how they will take too, so you can choose depending on how fit you're feeling!
We thoroughly recommend you head along the coastline towards the windmills. It's a lovely shaded walk (not too steep) and the dirt paths have been well maintained. The track will lead you to the beautiful windmills overlooking to sea. Take a picnic and soak in the atmosphere!
Where Is Kioni?
You can find Kioni on the island of Ithaki, just off Kephalonia. There are several really pretty towns here but we liked Kioni the best because it had a really laid back vibe, even in the middle of summer.
---
#2 Of Greece's Top 10 Anchorages – The Blue Caves
The Blue Caves are a popular tourist attraction for a reason. If you're looking for tranquility then you can forget it here. It's the most touristy, busy place we've visited in Greece so far and staying anchored here during the day took a lot of will power! We experience the worst wake we have ever had at anchor. The boat rocked constantly and violently and we very nearly gave up and ran for isolation, but we're so glad we stuck it out.
If you don't have favourable weather then we would still recommend coming here, just to see the caves. You can drop anchor in front of them, get straight into the dinghy and leave as soon as you've explored for the nearby town of Ag. Nikolaos or onwards.
If you have calm weather predicted then either arrive late and stay overnight or get there during the day and just stick it out like we did. By around 5pm most boats have left and you'll have the caves pretty much to yourselves (as it's a really unprotected anchorage). You can go and explore at sunset and sunrise with absolutely no one else. It's honestly incredible. If bad weather does arrive it's a super short trip to the more protected Ag. Nikolaos.
Where To Find The Blue Caves
The Blue Caves are at the northern tip of Zakynthos. They don't have much protection at all so it's really only good in calm weather, but they're a very short trip from the town of Ag. Nikolaos. Just around the corner is the famous ship wreck beach, which again is a hard place to anchor over night due to the swell, but if you can stick it out then you'll have it pretty much to yourself in the evening and morning.
---
#3 Pylos Is One Of Greece's Top 10 Anchorages
Navarino bay is the site of the famous battle of Pylos and is an awesome place to spend a few days – this may even be in our top 3 best anchorages in Greece. You can anchor outside the town, which you'll pass on the way in, but in our opinion the best place is on the north side of the bay where you can anchor in shallow sand in front of a pretty beach and in the shadow of the impressive hilltop castle.
It's a very protected bay and the holding is good. From here you can hang out on the beach (take some shelter as it's hard to find), climb up to the castle ruins and explore (go here at sunset for incredible views), or walk through the sand dunes to the beautiful beach of Ormos Voidokoilia (you can anchor here but it gets pretty swelly!)
If you get bored or run out of provisions then just shoot across the bay to the town where you'll find everything you need. You can anchor outside or go into the 'marina' – it's very run down and there's very little room so it might be worth going in on foot to check it out first!
Where Is Pylos?
Pylos is along the coast of the mainland in the Peloponnese. It's well situated to serve as a good bolt hole if you're making your way along the coast.
---
#4 Nisos Polyaigos
Wild and remote, this anchorage isn't the best when it comes to protection but what it lacks in safety it makes up for in beauty! To be honest, this anchorage is probably best as a day anchorage, but if you get perfect weather overnight (ie none at all) then staying here as the sun sets is a real treat.
When you reach this anchorage the popular thing to do is head south of the rocks, but we anchored north of them in a tiny patch of sand we found and took lines to shore. There's nothing to do here except swim and admire the views, but as it's a little off the beaten track you'll probably have it all to yourselves!
There are actually a whole host of beautiful anchorages on this tiny island off Milos, and the great thing about it is that it's only a very short hop over to Kimolos if you're in need of supplies. Once you've seen this spot then head to the horseshoe bay Pounta and relax on the sandy beach or climb the rocks to get a view over the bay. There's great fishing here too!
Where Is It?
You'll find this stunning spot just off the island of Milos, on the island of Nisos Polyiagos, in the south-east corner. If you can then it's a good idea to head here during Spring or Autumn when the Meltemi winds have died down. That being said, we visited in July and were lucky with several weeks of calm (ish) weather.
---
#5 Fourni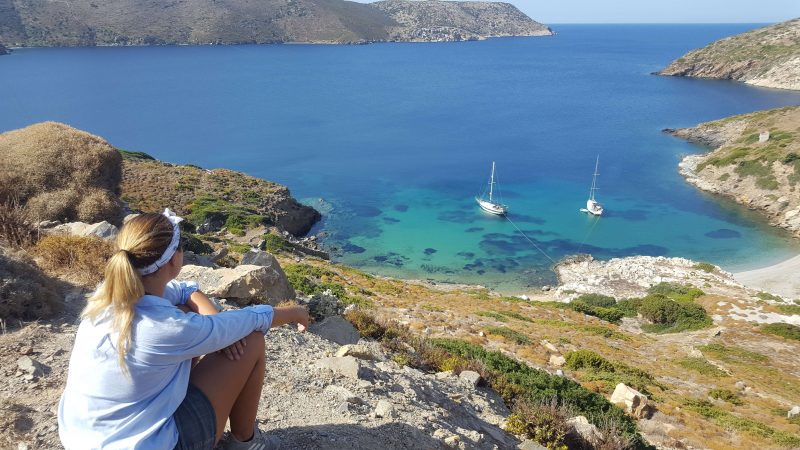 It took us ages to find somewhere safe to anchor on the island of Fourni, as we had winds from an unusual direction. Just as were starting to get a little desperate we found this absolute gem, and it turned out to be one of our top 10 anchorages in Greece!
Tucked away in this little finger of the island is this gorgeous tiny bag, just about big enough for two boats. The depths are shallow and there's lot of patches of sand, making it easy to go stern to the rocks. The other coves around might look appealing, but after many failed attempts to find somewhere shallow enough we were thankful to find this area! It's a scramble up the bank but once you've made it, it's a nice (but quite long) walk to the main town here with bars and restaurants and a nice bakery.
How To Get There
The island looks a little like a question mark, and the anchorage is tucked inside the curved bit to the south. As you enter it looks like a long bay, and you'll find the anchorage right at the end next to another bay with several fishing boats and a few houses. It's not marked as an anchorage on all the charts, so you'll have to go slow and keep a lookout as you enter!
---
#6 Poros, One Of Greece's Top 10 Anchorages
This was a strange choice for us as usually we opt for as remote as possible, but there's something really charming about busy Poros, and if you're in the Athens area then it would be a crime not to visit here.
Because of it's proximity to Athens it can get very crowded in this anchorage, but once you've found a spot to anchor here (or a place on the town quay) then it really is very pretty. Poros town itself is that typical Greek white washed sprawling jumble of houses that looks striking against the blue sea and skies. The other great thing about this anchorage is the sunsets it gives views of, which always seem to be incredible.
It's well protected and the holding in the anchorage opposite the town was good. There are some lovely tavernas for an evening drink or meal and although the town is a little touristy, it's still got that Greek charm!
Where To Find Poros
Poros is just off the mainland, across the bay almost directly opposite Athens. It's really well protected from almost every direction as it's in a little bay itself. The great thing about Poros is that you can anchor just outside the town if you're there to party or provision, and once you're tired of all the hustle and bustle there are several nice anchorages a little further out with beaches and walks. You can have the best of both within a half hour sail!
---
#7 Kokari
Kokari on Samos made it onto our top 10 anchorages in Greece because it was just so cute and different. This is an anchorage that would be hard to visit in the summer months when the strong winds blow from the north, but in the shoulder season it was a perfect stop off and we feel head over heels for this little town.
The anchorage is good holding and well protected with the harbour wall that offers some shelter from the open sea. The town on this side is lined with restaurants. Head across to the other side and you'll find a nice beach. There's a small shop in the town though you'd be better stocking up before you came.
The island sees more rainfall than other parts of Greece, so is lovely and green with the locals growing brightly coloured plants on their doorsteps. There was art everywhere and the houses weren't the typical Greek builds, but a little different in style, Asian almost. It felt like we really were somewhere new when we rocked up here.
Where Is Kokari
Kokari is on the northern side of Samos, sort of in the middle of this long island. It's the perfect stop off on your way to many places, and an afternoons sail from the more popular Pythagoreio or even Turkey.
#8 Pedi Makes Greece's Top 10 Anchorages
I couldn't decide whether to include Pedi, as I'm not sure it's in the top 10 anchorages in Greece. In the end I gave in, because although the anchorage itself isn't the most stunning (though it really ain't bad!), the opportunities to explore different parts of Symi island from this anchorage are awesome.
The anchorage itself is noted to not have the best holding, though we heard differing reports from old timers here and found it to be good ourselves. We heard the best spot (known to the locals) is a little to the port side of the town quay as you approach! If there's room you can go stern to or alongside on the town quay for free, though it is quite small so you might not get lucky mid summer.
Pedi village is cute, with a decent enough grocery store and some nice tavernas along the sea front. There's another beach a short walk away. You can easily walk into Symi town from here, and in our opinion Pedi is a much easier place to anchor than the anchor spaghetti you'll find there. Symi is just stunning – read more about it here if you plan on heading there.
If you're after peace and quiet then jump in the dinghy and head 5 minutes out of the bay and to the north where you'll find the most serene sandbank opposite a teeny tiny island with only a church on it. When we were here in September we had the place to ourselves, and spent a lovely afternoon snorkeling in knee deep crystal clear water and sunbathing on the little island. It's paradise.
There are also tonnes of walks on Symi island which are especially great in you visit in the shoulder seasons when the sun isn't as hot.
How To Get There
Pedi anchorage is just south of Symi town, in a well protected inlet.
#9 Kyparissi
This anchorage is like something from a postcard, and we thought it looked more like a Swiss lake than the Greek coast. It's surrounded by green mountains and the anchorage is well protected from most winds, so it often has a lake like quality to the water. It's probably one of the most atmospheric anchorages we've been to in Greece and definitely deserves a spot in the top 10!
You can anchor in a few places. To port or starboard as you enter. We read that to port had better holding and anchored swinging in the little bay. It was deep, so in higher winds it would be better to tie lines to shore to the little quay in front of the church.
From here it's a lovely coastal walk through the trees into the village. It's a small village full of character, with little cafes and restaurants and a really friendly feel. There are also several small coves you can hang out in, and the fishing and spearfishing here is great!
Where Is Kyparissi?
Kyparissi is in the Peloponnese, in a large inlet. It's a great place to hang around as everything is a days sail away and there's quite a few really sheltered bays you can head to in bad weather – Porto Heli and Kilada are two we can recommend with excellent mud holding and almost all round protection. We were there in October and it was the perfect area to potter around in and hide away in the frequent thunderstorms.
---
#10 Atokos – One Of Greece's Top 10 Anchorages
We saved the best for last, as in our opinion this is the best anchorage of all! Of course, that could just be because of our experiences there, but if you love remote and wild places then this is the anchorage for you!
There are several anchorages on Atokos. The bay to the east is very popular and well known, and we left in a hurry when we saw just how full it was! We lucked out though, because to the south of the island you'll find another anchorage that is much, much quieter.
There are two places you could anchor here – to port or to starboard. It's deep, so you'll need to do a bit of searching, but once you've found a reasonable depth you can take lines to shore and enjoy! There are a few very small beaches where people have built fire pits for the evening. The snorkeling is incredible, with amazing visibility along the cliff face disappearing into the depths and shoals of fish everywhere. There are also some reasonable sized caves to explore from the water.
You can't access the island from here (and it's privately owned so you're not technically allowed) but that makes it all the more special. During the day it has the usually trip boats visiting, but only for a few hours and then you'll have the place pretty much to yourself!
Where To Find Atokos
Atokos is in the Ionian, opposite Ithaki. There are many beautiful spots just a short hop away which would make this the perfect area for a short trip or charter holiday. If you're in the area make sure you head to Kastos and Meganisi too!
---
As you can see, Greece really isn't short of breath-takingly beautiful anchorages of every variety. And if you need more inspiration then check out our best of sailing the Peloponnese and our guide to the quiet Greek islands! Let us know your favourite Greek anchorage below (so we can head there asap!)