Sailboat living can sound like the dream life, and in many ways it is. Beautiful sunsets, the freedom to travel with your home, dolphins and crystal clear seas are all a huge part of the sailboat lifestyle, but anyone who tells you it's an easy life has obviously never really lived on a sailboat!
There are times when sailboat living can feel more like a nightmare than a dream, and no matter how much you prepare there will always be a few troublesome scenarios that you just can't predict. However, with a little fore-thought and a lot of planning there is a lot you can do to make the transition of moving from a house to a sailboat a relatively easy one.
If you're prepared to put in the hard work now then we promise you will reap the rewards in the future. As we learnt the hard way, we've put together the top 10 things that everyone should know before they move onto a sailboat so that sailboat living for you can be 98% dream and only 2% nightmare!
---
#1 A Sailboat Is Never Complete
Learn this lesson fast!
Don't expect to finish boat yard work and stop working. A sailboat breaks. Constantly. Some days it will feel as though your to do list is endless, because unfortunately it is. This was one of the things Adam and I were prepared for before we moved on board our sailboat. After living on a boat in the UK we understood the crazy amount of work that has to go into maintaining something that's constantly working.
I think a good way of looking at it would be to think of it as a house and a huge car. It has all the working parts of a house – the pipe work, the electricity, the leaky windows etc. It also has all the working parts of a car like the engine, the tires could be the sails, the lines and all that goes along with them. Add to that the fact that you're putting it under huge amounts of stress at all times, in some extreme weather conditions, and you can see why things constantly fail!
Adam and I spent the first few months of living aboard feeling as though we were just sailing from anchorage to anchorage to find chandlers so we could fix things. We made friends with some full time cruisers who quickly put a stop to that! They explained how if we actually wanted to enjoy time on board then we had to give ourselves time off the boat work. The broken things we could live could wait a few days while we enjoyed a new destination.
We now try to only do one or two days of boat work a week, which leaves us with a weekend 'off' when we're working our jobs for three days. This suits us perfectly, but you'll need to find a pattern that works for you to make sailboat living more enjoyable!
A bonus of living on board is that you do have the extra time to dedicate to keeping the sailboat in tip top condition. Many weekend sailors find themselves with a long list of jobs at the end of the season, but (depending on how cheap/how lucky you get when you buy your boat!) if you get some jobs done every now and again through the season you'll keep the long stints to a minimum.
---
#2 Sailboat Living = Tiny Space Living
Think of sailboat living as living in a glorified tent and you'll be (partly) prepared! There is nothing glamorous about sailboat living!
You'll be getting changed in tiny spaces where you may or may not be able to stand. You'll be squeezing into the toilet or squeezing past people to use the kettle. It's a juggling act, even when all your belongings are stashed away neatly. Add to that the fact you'll probably be ripping open cupboards every other day to find that essential item that was placed under all the other essential items and it becomes pretty hard to manage!
Our top tips for managing space on board your sailboat are to downsize before you move in and to prioritise sailboat storage. It might be a hard thing to do to start with, but you'll be so thankful you gave up all non essential items before you even moved aboard. It's amazing how quickly you can fill a boat when you live on it! We have loads of handy tips on how to maximise limited space in our post on sailboat storage ideas – check it out before you start sailboat living!
---
#3 Water, Water, Everywhere But Not A Drop To Wash In
Get used to living frugally. We don't necessarily mean your finances (though it is possible to live on a budget on a sailboat, check out what we spend monthly here). Things like water and electricity are limited on a sailboat, especially if you're spending the majority of your time at anchor.
Unless you have an expensive water maker you need to get used to using as little water as possible. It's not always easy to find when you live on the sea. Get used to taking sea showers and washing dishes in salt water. You can always rinse in fresh water, and washing in the sea really isn't too hard once you're used to it!
Set your sailboat up with a good way of making electricity as soon as you move aboard. You'll want decent amounts of solar power and possibly a wind generator too, especially if you're planning on spending time in countries that don't see very much sunshine or spending winters at anchor.
You'll also want to make sure you have a good battery bank for storing it over night, and you may even want to consider getting a small generator if you rely on power for things like charging laptops to work from.
---
#4 The People You Meet Will Be A True Highlight
The sailing community is what makes sailboat living. They are the most giving and generous community of people we have ever met and the best memories we have are the ones we spent with other cruisers.
It's not always easy to meet other sailors while you're living at anchor, so our advice is to make the effort and say hi where ever possible. People are always happy to share a drink or dinner, and a salty tale or two! Meeting other sailors is also the very best way to learn more about sailing life. No matter how long people have cruised for they always have an experience worth sharing and learning from.
---
#5 The Weather Controls Your Life In Sailboat Living
We check the weather twice a day, every day. It may seem obvious that the weather is important on a sailboat, but until we moved aboard we didn't realise quite how much it would affect our lives. You might be desperate to move the boat and explore somewhere new but find you have no wind to sail. Or you might fall in love with an anchorage and want to stay but be forced to move because of a change in the direction of the wind.
We've had to leave beautiful anchorages in the middle of the night because an unpredicted storm had blown through, or been stuck in places we don't like because the wind has meant it's the only safe place to be. The positives of being governed by the weather is that you're so much more in tune with it. You get up when the sun rises, you notice subtle changes in the temperature and you learn to read the wind and clouds.
Before you move on board you should start checking the weather and anchorages around where you plan on sailing. It makes life easier if you've scouted out the best places to be in different weather conditions. Check things like whether there are safe anchorages for different wind directions or whether you'll need to use marinas (and how much they'll be!), and check if there are any 'bolt holes' you can use as safe havens in the event of unexpected storms. You'll feel more confident and comfortable if you have all this information to hand when you start sailboat living.
---
#6 Sailboat Living Means Leaving Your Privacy On The Dockside
You'll be sharing a tiny space with your crew and they will quickly learn literally everything there is to learn about you. And you them.
Before you move onto a sailboat make sure that you're happy with sharing everything with the people you're sailing with. I don't mean you have to tell them about your childhood (though night passages can be pretty dull!) but be prepared to share what you eat, when you toilet, potentially what you throw up. Expect to be walked in on while you're changing or showering. Understand that boat toilets break – a lot – so no matter how careful you are you might well end up elbow deep in someone else's last nights dinner!
---
#7 Learn To Work As A Team – Quickly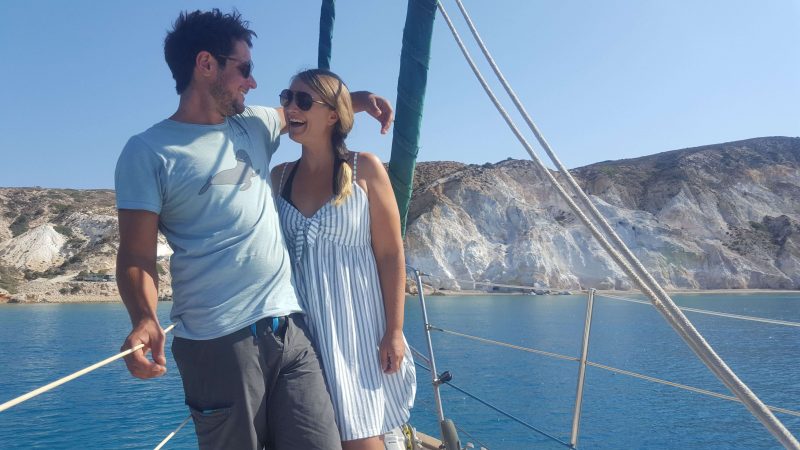 Sailboat living requires a huge amount of team work (unless you're planning on living alone of course). You need get into a very different mindset when you live and work with the same person or people day in, day out, and when you depend on them (quite literally) to survive.
One of the biggest reasons that people quit at sailboat living is because they fall out with their partners, or call it a day before they do. Sailboat living is hard on relationships, but it can also make your relationship better and stronger if you're prepared to work at it.
There are lots of things you can do to prepare for this change and I've put together a whole range of tips to help you with spending too much time with your partner. Ultimately, one of the best things you can do is know that this isn't going to be easy, no matter how strong your relationship is on land. Be prepared for this as a couple, and be prepared to work hard on your relationship when the tough patches come!
---
#8 Nature Is Incredible
I know, I know, we all know nature is incredible. But sailboat living brings you so much closer to it in so many different ways.
You see things you'd never get a chance to see on land. Every time you jump in the sea you find new sea creatures, either from snorkeling or finding them clinging on to your hull, or washed up on deck. You see turtles, whales and rays. Birds come to find rest on your boat while you're on long passages and dolphins swim beside you as you make waves for them to play in.
Then there's the sunrises and sunsets, and the endless starlit skies. The thunderstorms that you're suddenly a part of, when before you could hide inside brick walls. The constantly changing sea and sky, and the sun and wind. You become part of it, and you depend on it, and you're terrified of it.
Sailboat living makes you feel like you're part of the nature around you rather than just a lucky spectator. It's certainly changed the way I see the ocean and the weather for the better and I have a new found respect and healthy fear of it's power and awe.
---
#9 Prepare For Sleepless Nights
Before we set off cruising full time I had no idea how little sleep I would get. There are so many different things trying their hardest to ruin a good nights sleep on a sailboat.
Firstly, the weather. If it's windy, you'll be half awake all night just watching the anchor and wondering if this will be the night it pulls out and you drag into some rocks. You'll be waiting for the wind to shift slightly so that you're no longer protected from the sea. And even if you're super happy with your anchoring set up, the wind through the halyards makes a very disconcerting noise!
If the weather is calm that doesn't mean the sea will be. You can never predict whether the anchorage you arrive in will be the rollyest place on the island, so you'll spend a good few nights just rolling around all over the place trying your hardest to stay in your berth.
Then there's the heat (or the cold, depending on where you sail). It can be unbearably hot inside a sailboat, so consider buying a decent hammock and sleep under the stars instead.
But if you decide to sleep outside you're going to want a mosquito net, because those things are FIERCE. Never have I ever experienced so many sleepless nights due to a buzzing in my ears and painful bites all over my legs.
If you can find a comfortable set up with your hammock and mozzie net then sleeping outside on a sailboat is one of the most magical things ever. The stars are brighter than you could ever imagine, and there are shooting stars a plenty. The stillness of a calm night at anchor is one of the very best things about sailboat living.
---
#10 Sailboat Living Is More Difficult Than You Could Imagine (But Totally Worth It)
Difficult sounds bad, but that would be inaccurate when describing sailboat living. It's the hardest thing I've ever done and the best. And part of what makes it the best is that it's the hardest. Does that make sense?!
Sailboat living can feel like a constant battle at times. You have to trek for an hour to find the gas to light your oven to make a cup of tea in the morning. You then have to go back again because you forgot the tea bags. Things break and need fixing. You can't sleep because of a storm. You can't leave the boat for days because the winds up and you're scared the anchor might pull out.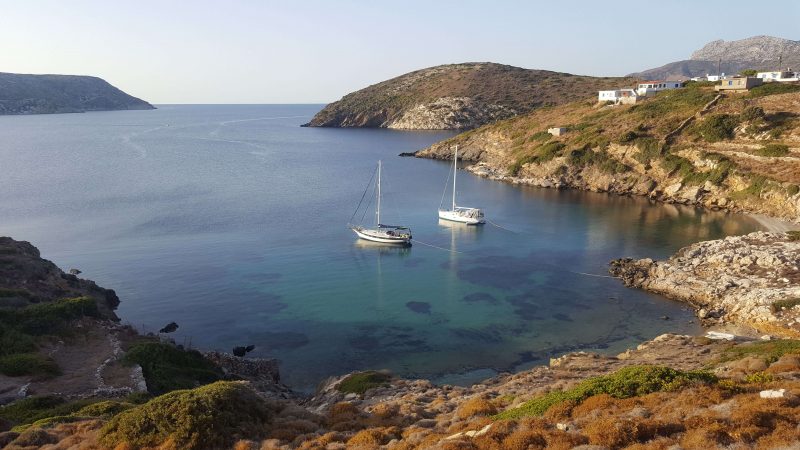 I think people run away to sea to find freedom, but like everything freedom can be defined in so many different ways. Sailboat living takes away your freedom of easy access to food and water. It takes away your freedom to step out of your front door into relative safety. At times it even takes away your freedom to run and walk.
What it does give you is freedom from monotony. Freedom from daily routine. It gives you the freedom to travel where you want (if not when you want) and the freedom from material possessions. It doesn't matter what you wear on a boat, it doesn't matter how flashy your boat is or how much you smell! At the end of the day, out on the sea, it's just you surviving. And in a way, that's the most free I've ever felt.
---