2020 has been a year to remember for (mostly) the wrong reasons. But amidst the absolute chaos and uncertainty, Adam and I have been very blessed. We've managed to have some awesome socially distanced adventures in our floating home, we've seen more of our friends and family than ever before thanks to people being bored stuck at home (one mans curse is another mans treasure right!?) and we were blessed to add a new nephew, baby Jacob, to the clan.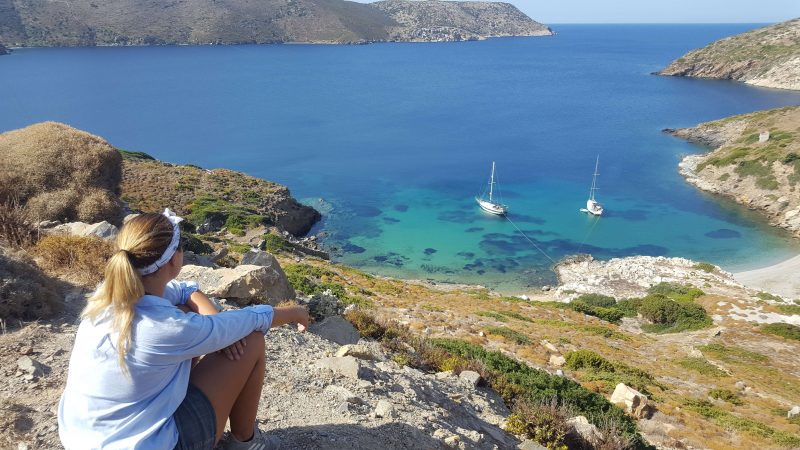 Now that we're in another lockdown preventing us from sailing and changing our winter plans, we've called the season to an early close and decided to get the boat out of the water for more TLC this year.
We have some exciting big upgrades planned, but I can't say either of us are thrilled at the prospect of Christmas in the yard. Still, 2020 hasn't sunk us yet so here are some of the memories of this strange year that will be getting us through the cold nights and rainy toilet treks!
A Very Tiny Cat
We'll start with the obvious highlight of this year, and that's Tiny Cat. We did everything we possibly could not to own a pet on board. It was a constant battle last season, with so many stray cats in Greece crying out for a home. We fought hard not to give in and adopt a cat, truly believing they were better off on land.
But Tiny Cat appeared out of no where and just wouldn't leave. It's almost as though she could sense our unhappiness (lockdown in a boat yard was not a highlight!) We had no idea how young she was at the time but we were sure that she wouldn't have survived if we hadn't taken her on.
This is how we justified our decision to keep her, and watching her grow used to boat life has made me pretty convinced that cats can love boat life just as much as land life (especially when land life means rummaging through bins and boat life means endless supplies of whatever snacks she fancies).
It hasn't always been easy, but she makes us laugh and smile every day and we just can't imagine life without her now. Thanks Tiny Cat – you are something 2020 definitely got right.
---
The Incredible Anchorage Of Poliegos
After an awesome downwind sail we arrived on the island of Poliegos, just off Milos. After a slight map reading error (I found a well reviewed anchorage on Navily that was not the anchorage I routed us to!) we ended up anchoring somewhere that wasn't a marked anchorage. Luckily the water was crystal clear, making it easy to avoid any hidden dangers, and tied lines to shore in the most stunning remote anchorage.
After a snorkel around the incredible rock features we watched the sun set behind the needles and fell asleep under the stars. It was an anchorage to remember, and it's remoteness only made it all the more special.
---
Falling In Love With The Underwater World
I've always had a fascination with the sea, both above and below, but this year we fell in love all over again.
Adam bought himself a spear gun after being talked into it by our friend from the boat yard. We had expert tuition from him and Adam found a new love for it, catching us several really decent sized fish this season.
I became more determined to learn to free dive and got down to my deepest yet at 10m (shallow for some but a big achievement for a novice like me!) We had some amazing underwater experiences, from spotting octopus, eels and rays to diving through underwater tunnels into hidden sea lakes. We also had the opportunity to dive a war plane wreck which was a real unexpected highlight.
When you live on a boat the ocean becomes your backyard, and we have only just started to explore!
---
Seeing Things Anew With Crew
Having friends on board for several weeks at a time has really enhanced our sailing season this year. We have loved sharing our slightly unusual lifestyle with people, seeing their reactions to the crystal clear warm waters of our backyard, watching them learn which line to pull and when, laughing when they bash their head on the boom galleys for the 5th time (only joking, we would never laugh at that).
Having company has made a big difference to our enjoyment. All the things that we find a 'hassle' or have stopped appreciating, we've been able to see anew in the eyes of our friends. When we arrive in an anchorage and dutifully jump in the water to check the anchor, our crew have been desperate to jump in because the water is amazing. We sometimes forget to actually stop and enjoy all the amazing things around us. This year has reminded us just how lucky we are.
---
Sailing With A Smooth Bottom
Every sailor loves a smooth bottom. It's something we all dream of having but hate the hard work involved in getting it. With a winter in lockdown we had plenty of time to perfect our smooth bottom, and we've got some serious enjoyment out of it this season.
Minds out the gutter people. I'm obviously talking about the hull.
With all those barnacles off the hull, and with it properly faired and finished, we've been making at least an extra knot on last season and it's been amazing. We were averaging a speed of around 4 knots last season (we did fly down a huge wave at 11 but that had everything to do with the wave and nothing to do with our boat or ability!) This year we were going slowly at anything under 5 knots, and with frequent wind we were often sailing at more like 6.
---
There were a few really memorable sails this season.
The first was our sail from the mainland out East towards the islands. It was our first proper sail of the season. We started with very little wind and a full rig, but by the time we were an hour from our anchorage the wind had started to pick up.
Last season we struggled to sail upwind, but with a full rig out in 25 knots we were making 5 knots and barely heeling. We decided to trust the boat and how it was handling and we didn't reef super, super early as we normally would have. We were able to sail so much better upwind with more canvas out than we had tried before. It taught us to be a little more confident and trust our ability to read the weather and handle the sails.
---
Our next great sail was the last leg of our overnight passage to Rhodes. As we reached the headland the wind picked up and just as before, we kept the sail area up and absolutely flew along the coast on a beam reach. It was the perfect end to a long passage.
---
My favourite sail of the season had to be our downwind sail to Leros. We were predicted southerlies which we hadn't had all season, and although they were going to be a little stronger than we'd usually go out in we decided to take the opportunity of favourable wind to make some ground. It was a long sail so we set off early in no wind, caught a fish, watched the sunrise, relaxed.
The wind started to pick up a little after a few hours and we were able to sail slowly, then the waves started to really pick up and the cloud patterns became a little unnerving. A big swirl started to form right above our heads and the sky grew darker.
At this point we started to seriously consider bailing out, but we were only a few hours off by this point and we still had light winds so we decided to stick with it. Then the wind built, and the waves built, and we were sailing in 30 knots and 4m seas, and I had a realisation that we were fine.
We had the sails fully reefed and we were flying down the waves, but the boat was handling beautifully and we were fully in control. It felt exhilarating rather than terrifying!
---
Falling Asleep To Shooting Stars
We've seen shooting stars before, but for some reason this year they were out of this world. Literally.
We saw shooting stars that turned from white, to yellow, to blue and lasted for what seemed like forever. We watched from the boat as they lit up above our heads in the thickest and brightest lines we've ever seen. And not just on one night either, it seemed they put on a show for us for at least a month. It was incredible and something we feel very lucky to have witnessed.
---
My Birthday
I really love my birthday! I think it stems from the fact I have a summer birthday, and as a kid my birthday always fell in the holidays meaning I never got to bring sweets to school, I never got a school birthday badge and people were always on holiday when my party was planned….or at least that's what they always told me. I tried to make up for that as an adult, by throwing big parties and arranging birthday activities, and realised that birthdays are a great excuse to have fun.
Being on a boat limits the opportunities for parties, but this year my birthday luckily fell on a day our friends were here. I woke early in a private anchorage for a birthday snorkel with Adam, got back to a birthday cocktail and breakfast, went for an epic hike to a fishing village for lunch and had a BBQ on a deserted beach in the evening, with freshly caught fish, long island iced teas and a very funny game of ring of fire. It couldn't have been any more idyllic.
---
Relaxing In Empty Anchorages
This has been the year we've made proper use of the hammock. After the summer season was over, and with it the high meltemi winds, we started to really relax. We would have awesome short sails with just enough wind, and then by the time we arrived at a beautiful anchorage the wind would have died down completely and we'd have glossy seas, a completely still boat and an anchorage all to ourselves.
We had several months of setting up the boat as a mini hotel, with a hammock gently swinging, a cockpit full of cushions, a projector screen playing movies and our new BBQ smoking away. We both remember the Autumn months of this year as some of the very best.
---
Kokkari
We get to see beautiful little towns, villages and anchorages every day and it's rare that we see somewhere in Greece that doesn't take our breath away. But it's even more rare that we find somewhere we fall completely head over heels in love with. Kokkari was that place for us.
With most things in life, it was probably just as much about the time we arrived as the place itself. After a lovely sail along the coast we arrived in Kokkari on Samos island just as a storm was rolling through. The dark clouds were threatening but the sun was just peeking through, making the dark green leaves from the surrounding mountain foliage glisten. It had a distinct feel, more like somewhere in Asia than the familiar Greek white washed houses. The mountainside was a jumble of rooftops, colourful flowers and forest.
Unfortunately we could only stay for a night as the southerlies twisted to northerlies and we were forced on our way, but that magical place will stick with me for a long time yet, and perhaps we'll even make it back there next season!
---
Getting Greek Residency
It doesn't mean much in the grand scheme of things but it means the world to us. Whether or not you agree with Brexit one thing is for sure, it will change the lives of British 'nomads' in Europe forever. We have gone from being allowed to live in Europe indefinitely, to only being allowed to be here for 90 days out of 180.
Without Greek residency we would be forced to fly back to the UK with no where to stay in the middle of a pandemic to have any chance of sailing this summer. We would return in April to do a month of work on our boat, sail for May and June and then have to put the boat into a crazy expensive marina for three months while we flew home again for three months (to stay I don't know where and do I don't know what!?) Then we could come back in October and maybe fit in a few months of sailing before the weather got bad.
Basically, without a 'get out' we would have had to sell HC and move back to the UK, because there's no way we could afford to keep the boat safe and keep flying back and forth and renting places to stay in the UK. For us Brexit is a nightmare and something we're desperate to escape. With Greek residency we can stay in Greece for 180 days, so getting our Greek residency cards was a huge deal for us. It doesn't solve our problem completely, but it's a start.
---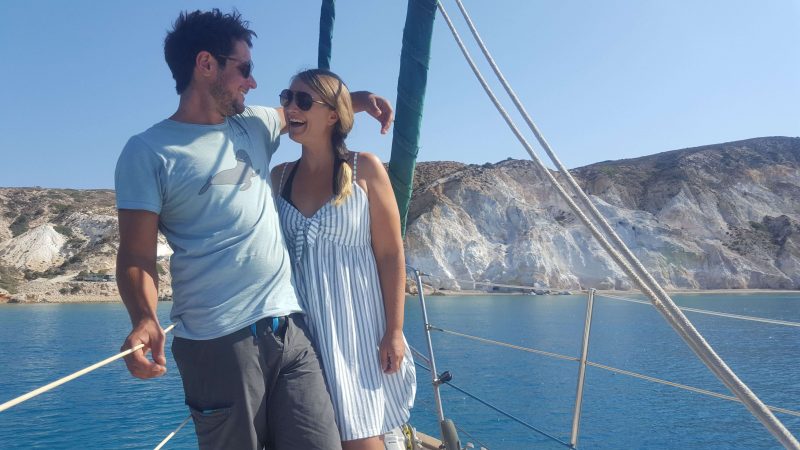 There were countless other things I could have mentioned here, like the fact a lot of the boat work we tackled at the beginning of the year has lasted and improved our lives on board, how we've had so many opportunities to try local food this year with our lovely friends buying us meals and drinks, the new cruising friends we've made and the old ones who are still providing us with support and kindness when things go pair shaped.
There were more incredible places than we could possibly mention, like beautiful Symi, or more remote places like the island of Fourni. Some amazing treks, more dolphins, and even a huge ray jumping out of the water.
---
For us, the 2020 sailing season has had some real low spots but it's also been full of adventures we'll remember forever. So with our lift out scheduled for tomorrow morning we aren't surprised by the approaching thunderstorm – one last hurrah from 2020 that hopefully won't be a night to remember!
---