Before we moved on board I was not the tidiest of people, and sailboat storage ideas was far from the number one thing on my pinterest boards! I would describe myself as somewhat chaotic. I have an idea, I pull out the things I need and I'm in such a rush that I just don't have time to put it away again.
Unfortunately living on a sailboat does not allow for unorganised sailors. I quickly learnt that pulling something out and not putting it away again meant that either I couldn't sit down for the rest of the day, or it ended up broken.
To help me in my endeavour to become a boat storage ideas pro I sought the help of the internet, and of my inventive other half (let's face it, devising clever boat storage systems worked in his favour too!)
We have slowly but surely developed some great boat storage ideas, going from a sailboat that continuously looked like it had only just survived a hurricane, to one that I'm pretty proud of!
---
Tips And Tricks For Sailboat Storage
It took a while to train ourselves to keep tidy when living on a boat. Sailboat storage is great, but it's not good at all if you don't use it. There are a few things I have made myself get into the habit of doing while living on a boat.
---
Tidy It Away
Firstly, I tidy away anything breakable straight away. For example, as soon as I've finished my cup of tea it goes in the sink, where it's safe to rock around a little. I don't necessarily wash it up straight away (I'm not a tidy person remember!) but I make sure it's not going to fly across the boat if a speedboat jets past in a quiet anchorage.
---
Give It A Home
Secondly, everything has a 'home'. As soon as something new arrives on the boat, Adam and I decide where it's going to live. That means it's easy to out away and find again. When we get this wrong, we end up forgetting where it is and having to pull apart every cupboard on the boat to find it. So it's a good time saver in the long run!
At the end of every day I spend a few minutes putting any stray items back into their 'home'. If we're having a day of DIY then the boat ends up an absolute tip, so if we're somewhere safe like a marina or on the hard, then I allow a few days of mess before a big tidy up, as we're using the same tools over and over. But here, the rule is that the tools in use live on the pilot birth sofa. That way, we know where they straight away, and it saves seating space for us to actually live in!
---
Be Ruthless
Let's face it, the less you have on board, the less there is to tidy away. I'm the worst at this, but I've got a lot better since moving on board. Go through your boat a cupboard at a time, and simply get rid of anything you don't use. Most marinas have a place you can leave unwanted goods – just don't come back with armfuls of things others are getting rid of! Be ruthless!
---
Sailboat Storage Ideas
There is no doubt that having a decent sailboat storage system does wonders for your organisation when living aboard. The great thing is, you shouldn't have to spend too much money to get your boat well organised and easy to maintain. We have shared our handy tips below for all of you who aren't the domestic gods and goddesses that you wish you were.
---
Existing Sailboat Storage Ideas
If your boat is anything like ours, it came complete with a wealth of hidden shelves and cupboards. When I saw how much storage there was on Hot Chocolate I wondered what all the fuss was about. I could easily keep my stuff tidy, there was enough cupboards by far to store all of my worldy possessions and I'd have no problem keeping the boat tidy.
Oh how wrong I was.
I very quickly realised that although there are clever little hidey holes all over the sailboat, they are not user friendly in the slightest. They are hard to get into, too deep, too shallow, too hot, too cold-you name it.
The biggest problem with existing boat storage is that they are hard to get into, and too deep. We tried to be systematic in our approach to storing things, putting away the things we thought we would use least at the bottom or the back of the cupboard. But obviously it rarely works, so we end up pulling everything out just to get to one tiny thing.
Over time I have learnt to optimise these spaces to make sure I get the most from every nook and cranny. We have made use of the boat storage ideas below to help us overcome the problems with our existing boat storage.
---
Sailboat Storage Ideas-Utilising Space
Top tip: When ever you are invited onto someone elses boat, ask them about their storage. Trust me, people love to show off their ideas, and we got so many of our boat storage tips from being nosey! You can check out our boat here and feel free to steal some of our storage ideas!
Canvas Storage Baskets
Durable storage baskets are one of the best sailboat storage ideas ever invented. They fit easily inside cupboards, maximising strange shapes and curves, in a way that rigid containers just can't do. They can squeeze up if they don't quite fit, making it easy to pull them in and out of cupboards.
Storing your things inside canvas storage baskets tucked away in the cupboard means that you don't have to pull every little thing out to find something, you just pull out the bag containing the things you might need, and then shove the bag back in again. Easy! I have even labelled the bags so that we are 100% sure of where to put it away again after, meaning we never lose anything! And I think they look pretty too.
We use them in most of our cupboards. The only place they aren't so useful is the fridge, where we use rigid, washable containers (see below).
---
Packing Cubes Are A Great Sailboat Storage Idea
Not only a travel essential for me, these packing cubes have become a sailboat storage essential too. They are perfect for storing clothes neatly in cupboards and keep them from flying out into a heap on the cupboard floor after a day of sailing. You can also gethanging packing cubes designed to be hung from a rail or hook. We've found these are great for storing toiletries, but they're a handy shape for so many purposes!
If you want to do your bit for the environment then consider these packing cubes instead. They're made from recycled plastic bottles (that's less in our oceans!) and they're also better quality, with compression pouches to really maximise space.
Top Tip: Packing cubes are great for any friends or crew that are visiting. Encourage them to pack their clothes into these and provide them with some handy S-hooks so they can hang their packing cubes from a shelf or wardrobe. They'll save a load of space and it will make life a lot easier for people who aren't used to living in a small space!
---
Tupperware Storage
We use canvas bag storage for everything other than in the galley and to organise our cleaning products. For this we use good old Tupperware. It's washable and long lasting. If you have a bin style fridge then you'll probably end up like us-tearing your hair out after a week of using it and wondering how anyone copes with all their food being in a big pile on top of each other. The answer is Tupperware.
We bought four large containers. The two at the bottom of the fridge serve as long term storage. We keep long life milk here, or emergency water (beer) supplies that we don't need to access very often. Then we stack two other large containers on top and they are for our fresh veg and other cold goods. It means we can actually reach our food, but we aren't wasting space and nothing gets lost in the bottomless pit of a fridge.
We can easily pull out a container when we're cooking and shove it back in again when we're done, saving us from the frustrations of having chopped up the veg on the fridge work surface and then realising we've forgotten a vital ingredient from inside and having to move everything to get back in!
---
Mesh Storage Bags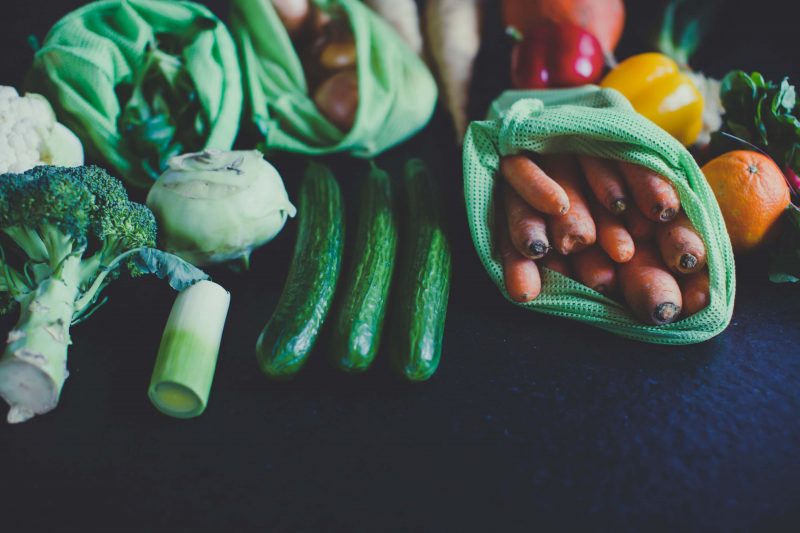 These. Are. Awesome. We use these mesh storage bagsin the fridge, along with the tupperware, or we hang them up in the galley if we're short on space. They are washable, so they're perfect for food, and they fill the space in a way that tupperware can't.
For me, the best thing about these bags is that you can take them to the supermarket with you. Instead of using the little plastic bags to gather up the tomatoes or spinach, we use these. Then we can just chuck them straight into the fridge when we get back.
You can actually use these bags for a load of different purposes on a sailboat and once you have them you'll start to wonder how you lived without them!
---
Boat Storage Ideas-Creating Space
One of the best ways to get extra storage from your boat is to create it. With a few carefully placed items your boat storage can be really maximised!
Adding more space to your boat storage system is win win. You can create the storage where you want it and how you want it, and you'll feel so much more organised once you've done it!
---
Hooks For Sailboat Storage
Having some carefully placed hooks on a sailboat makes storing certain things a whole lot easier. When we first moved on board we were hanging wet towels from the fruit basket and stacking hats on top of electrical cables. It was absolute chaos! We soon invested in some pretty hooks so now not only do the walls look a little less bare but our stuff is stowed away nicely and easy to grab when we need it.
The only thing to bare in mind when choosing where to put your hooks is that you don't want them to be anywhere you could poke an eye out if you fell. With a rolly sailboat it's all too easy to lose your footing, so make sure those hooks are high up or on the inside of cubby holes!
---
Hanging Pockets
Hanging pockets add additional storage to your sailboat and brighten up the boat too. These are a brilliant boat storage idea for any size sailboat. You can get colourful designs to hang on show, for things you need to grab in a hurry, or plain and simple ones for the inside of cupboard doors.
In our opinion they work better than hooks, because you can put them anywhere without worrying about bashing into them and things won't fall out when the boat is heeling. We even hang one from the mast in the saloon-it looks homely and is so useful.
---
Sailboat Storage Hammocks
Hammocks are equally as useful. One of the best things about them is how they add to the space you have around the boat by creating an extra surface. They move with the boat so you don't have to worry about things falling off them or clattering around, and you can add them and take them away really easily. All you need is a few hooks in the wall.
We use ours for hanging fruit as it keeps it aired. We just take it down when we aren't using it and it opens up the boat again!
---
Adding Shelves As Additional Boat Storage
This is a really easy way to make more storage on your boat, but you do have to commit. Once you've drilled screws into the walls there's no going back. As most of the extra space we wanted was in cupboards this wasn't such an issue.
Unused holes will be hidden if decide at any point that we don't need the shelves anymore. What it has done is given us a whole layer of extra storage in some of our cupboards. You can make the shelf half the width of the cupboard if you need to store taller items in there too.
Top tip: Live in the boat for a good few months before you start to add things. It took us ages to decide on the best cupboards to store things in, and so our need for shelves changed over time. We moved where we stored our food several times before we were happy, and only added a shelf for our tins and jars when we were sure it was the right place!
If you aren't keen on ruining your beautiful woodwork interior with your dodgy DIY skills (we sympathise!) then these 'temporary' shelves are a great idea. They clip on the side of the bed, or anywhere with a lip (which on a boat is plentiful!) and create an extra shelf that is easy to add or take away. The shelf is already boat proof, with a lip all the way round to keep your things from falling off.
---
Wall Rails
One things a sailboat usually has got is 'wall' space. Whether that's between cupboards, above doorways or under shelves there is always un-utilised space available to fit a hanging rail. These are great for boat storage as so many things need to be hung on a boat to stop them flying across the companionway in any big seas.
Use them for hanging pots, pans and utensils in a galley, as temporary boat storage for hanging things like towels when it's wet outside, for tea towels and oven gloves, for face cloths or scrubbers…..the list is endless!
We even use ours for hanging herbs and more decorative items to help make the sailboat a little more homely!
---
Over The Cupboard Basket
These things are amazing! You can hang them onto the back of any cupboard door (providing any shelves won't be in the way) and you'll have some handy extra storage. We have one on the back of a galley cupboard and it creates a whole load of extra storage.
The picture in this one shows it holding baking tins, which is exactly what we use it for. Before we had this there was literally no shelf big enough for them, so we've found this cupboard basket a bit of a life-saver, or a space saver at least!
---
Sailboat Storage Ideas-Organisation
Adding storage to your boat is all very well, but if you can't find things easily once they're all put away then you're in big trouble. Trust me. Once you have emptied yet another drawer looking for something during a spot of bad weather then you'll be cursing yourself for not investing some time into organisation.
---
Drawer Dividers
These things are great for keeping our drawer storage top notch! We got ourselves into a bit of a mess in galley, we could never find the forks for some reason, and it was the cause of many an argument! These bamboo drawer dividers have proved to be very useful indeed. We even got some for the bedroom for our underwear drawers!
---
Device Charging Station
This might be one of the coolest inventions ever. We have a lot of electrical items on the boat, and before we got a device charging station they lived, well, everywhere. All over the boat. We constantly lost the tablets we use for navigation, we lost our phones when we needed to check the weather and so on.
Now that we have this device charging station, our electrical equipment always finds its way back here to get charged. We keep it on a shelf next to the plug socket and I feel a lot less stressed knowing our electrical equipment is always charged and ready to go when we need it most.
---
Hanging Laundry Bags
When we first moved onto the boat I had a problem with laundry storage. Where on Earth do you put dirty clothes. In a house you can have a pretty laundry basket in the corner of a room, or even better, a whole laundry room! But on a boat there isn't room. I tried keeping a bag at the bottom of the wardrobe, but if clothes fell off the hanger they'd end up lying on top of all the dirty clothes. It wasn't ideal.
This hanging laundry bag is the answer. It sits on the inside of the wardrobe door, it's easy to get to and shove dirty clothes into and it's easy to take to the launderette when it's full-no need to decant all the clothes into another bag.
If you want to go one step further then buy one of these. A laundry bag perfect for lugging to the launderette. It even has a pocket for the detergent so you don't forget it (like we have so many times!)
---
Vacuum Sealed Storage Bags
These vacuum sealed clothes bags are perfect for long term sailboat storage. They really do shrink clothes down to nothing, meaning you can store so much more. In the summer we put all of our winter clothes into vacuum sealed bags and store it under the wardrobe where it's tricky to reach. We do the same with guest bedding that we don't need to get out too often. That way we have all the useful space in the wardrobe for the clothes we are actually wearing.
---
Bedside Caddy
We really lack bedside storage on this boat. I guess when it was designed you wouldn't want anything beside the bed, but these days we like to have our mobile phones and other useful bits and pieces in close range. We fixed the problem of not having enough sailboat storage here with this
" target="_blank" rel="noreferrer noopener nofollow">bedside caddy.
It just slips over the side of the bed frame and it has space for everything you could need – even a handy hole built in to pop a charging cable through. It also folds into a little bag meaning you can just grab and run with all your essentials packed inside!
---
Plate Stackers
If you want to make more storage inside your galley cupboards then consider getting a few of these plate stackers. It's a great way of organising your crockery, or making more space, as it enables you to separate out different sizes of plates or bowls, or to stack cups on top of plates making more sailboat storage! These ones have non-skid feet so they won't fly out while the boat is heeling!
---
Boat Storage Ideas-DIY
A lot of boat storage ideas will come from finding your individual boats needs and coming up with a way to fix it-by yourself. I'm not the best at DIY, but sometimes the simplest of changes can make a big difference to living aboard in such a tiny space. Get inventive and you'll be amazed by what you can achieve!
Below are some inspirational DIY boat storage ideas that you can steal and claim as your own!
Rake Head Utensil Hook
If you have an old rake lying around (or can source one off Facebook marketplace!) then you can use it as the perfect multi hook for galley utensils. You can also get old of super cheap ones from Amazon. Just attach it to a wall in your galley and hang all your utensils in an easy to store, easy to reach space! Beats trying to cram them into tiny boat storage drawers like we used to do!
Bungee Cord Shoe Rack
We love bungee cords and aren't ashamed to say that we use them to fix all kinds of things on the sailboat. One of their best uses is to aid boat storage. We have attached a bungee cord to the outside of the basket storage in our cockpit and it is the perfect place to tuck away our flip flops when we aren't using them. We have also wrapped one around the side of the stairs to store random bits and bobs that we want to be easily accessible while we are sailing, such as head torches. We have even used them in the cockpit lockers to hang up spare lines!
---
String Sunglasses Holder
If you've watched any of our sailing videos then you will know how many pairs of sunglasses Adam has lost so far this season. For that reason we stock bought a load of cheap sunglasses from the internet as back ups (we really can't do without them while we're sailing!). We now have about five different pairs of sunglasses, the ones we actually use and several spare ones for when Adam throws his in the sea!
Storing sunglasses is difficult though, as the last thing you want to do is chuck them in a drawer where they'll get scratched. You also don't want to be spending ages carefully pulling them out of three different cases while there is sailing to be done. To solve this problem we used an off cut of our fruit hammock to make a hanging string for sunglasses. We have attached it in the companion way so that whenever we have to step outside, they are right there for us to grab.
---
Further reading:
Recently moved onto a sailboat? Here are some more handy tips for full time (and part time!) sailboat living!
If you've got any more smart storage ideas for living on a sailboat then we would love to hear about them below (the quest for even better boat storage ideas continues!) Follow us for more sailing inspiration!
---
For the short version check out our sailboat storage story