How to make money while living on a sailboat is an important question to ask if you're planning on living aboard full time. Although the dream is to run away into the vast ocean, sip cocktails on desert islands and never have to work another day in your life, for the most of us that simply isn't a reality.
Before you embark on the adventure of a lifetime you're going to want to know how you're going to make ends meet. Living on a sailboat is definitely cheaper than living on land (if you're determined enough to live on a budget!)
To get an idea of what we've been spending per month while working from our sailboat you should read this first. It will hopefully give you a good starting point to work out how much money you'll need to be bring in to keep your boat afloat!
Once you've worked out roughly how much you'll need, you can then start thinking about how to make it!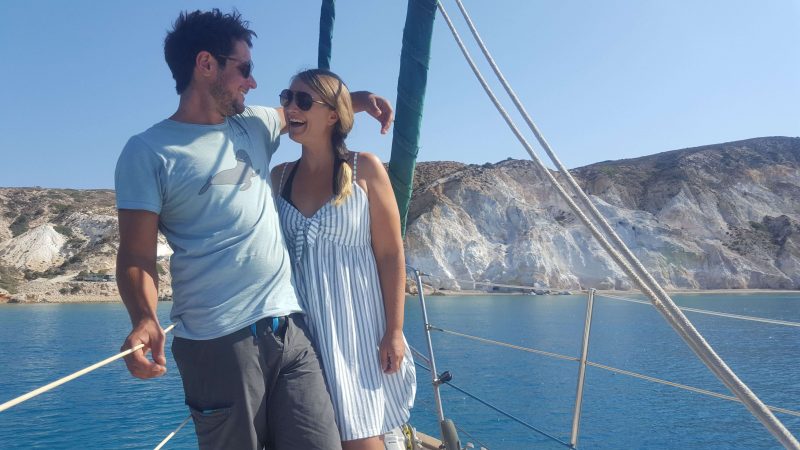 Is It Possible To Make Money Living On A Sailboat?
Definitely! It's 100% possible to make money while living on a sailboat.
When Adam and I quit work 2 years ago with this crazy dream of sailing the world we had no idea how we were going to make ends meet. We did a lot of research, and came up with a few different ideas, but we had absolutely no clue as to whether or not they would work out.
I'll go into more detail about what we both do to bring in the cash we need to support this lifestyle below. But I will add that we've met countless other cruisers who are working from their boats in one way or another, so we can now say for sure that it's possible.
If you're looking for ideas on how to make money living on a sailboat then this guide should help. We've listed the ways we've seen people making jobs work for them first hand, so you don't have to second guess whether or not it's really viable. We'll also go into some of the technicalities you'll need to consider before trying to make money on board.
---
How To Make Money While Living On A Sailboat
The are obviously a million different ways you can make money from a sailboat depending on your skill set. We'll look at the ways we KNOW work, to give you that bit more security.
We do know people who successfully monetise YouTube but please don't rely on this as a form of income! It takes time to build a social following, and the 'market' here is very saturated.
Unless you have experience with digital marketing or video filming and editing skills then this is a hard route to go down and comes with a lot of personal sacrifices. We haven't included it in our list of job ideas for this reason, but it's a lovely thing to do if you just want to document your travels!
How Does Adam Make Money Living On A Sailboat?
Working Remotely From A Sailboat
Working your normal job remotely has become even more accessible over the last few months, with companies realising it really is possible. If you can work in your PJs from your living room, then you can work in your swim shorts on a sailboat!
When Adam left work 2 years ago working remotely wasn't quite so popular. He was contacted by one of his old bosses. He was starting up a new smart tech company and wondered if Adam was looking for work. At the time we were trying to finish the work on Adam's old motor boat so that we could sell and buy a sailboat.
We decided that part time work would mean we'd have the funds to continue working on the boat and perhaps even be able to save a little extra for the sailboat. He started working three days a week in London and I took on more of the boat work on these days!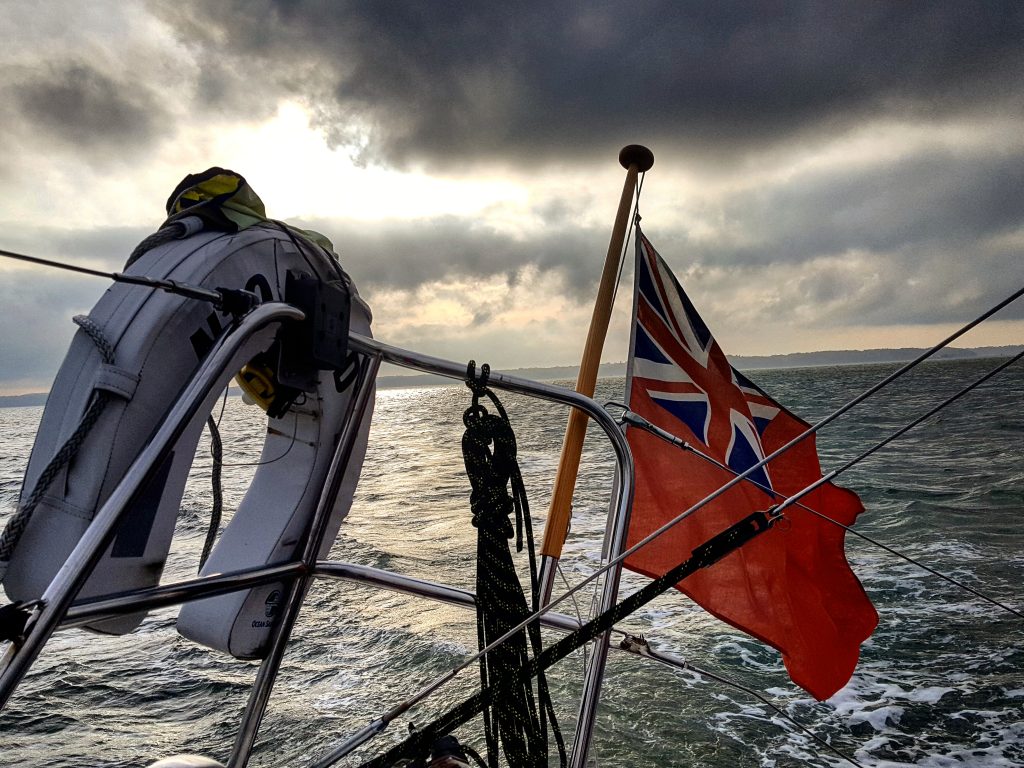 When we left for Sicily we assumed that was the end of our income for a while. We didn't even have internet access. But Adam's boss was still keen for him to tie up some loose ends, so Adam was working part time from the marina coffee shop. The tying up loose ends became a remote work job offer, and that's become our full time income while living on board.
Neither Adam or his boss had any idea how the whole agreement would work but both were keen to try. To begin with Adam was copywriting for the company website and it was agreed that he would work a certain amount of hours per month. This worked well for a while and would have been the easiest way to make money from a sailboat – working the hours that suit you and having the freedom to drop work at a moments notice.
This didn't work so well for Adam's London based company as they needed more contact with him that first thought. To combat this Adam started working two days a week – Monday and Tuesday. We were worried that once we started living at anchor this would be a problem. We thought finding internet would be a struggle, and that there might be times we needed to move because of weather and couldn't.
With careful forethought and planning this hasn't yet been an issue, but some scarifies do have to be made to make this work.
---
Sort Out Power And Internet Early
If you're taking on a remote job to earn money from your sailboat then you'll need to make sure you have a decent internet contract that won't cost you more than you're earning! And you'll need the power to run laptops etc – we invested in some decent solar panels which are perfect for Greece's sunny climate. Find out how we get the internet here.
---
Plan Before You Anchor
Getting the internet on our sailboat has rarely been a problem because we plan our routes carefully. The weekend before a working week we make sure we have a few safe anchorages planned and check on Google earth to find where the nearest mast is. On Sunday we scope out the anchorage to make sure it has a decent internet connection and then we're all set up and ready for the working week!
The other thing we plan carefully for is the weather. We make sure we head to anchorages with good shelter. If not all round shelter then at least shelter from the directions the wind is forecast, with options to move to nearby anchorages if the wind direction changes without warning (and get a good anchor!).
There have been twice in two years when we've been caught out. Once when a thunderstorm hit and Adam's laptop needed storing away for an hour while the storm passed, and once when we couldn't move from a mooring with bad internet due to bad weather (find out how we combatted that here!)
---
Be Prepared To Make A Few 'Sacrifices'
If you need to make money from a sailboat then there are different sacrifices you'll have to make depending on what job you're doing. If you're working remotely that sacrifice will mean you can't go where ever you want, when ever you want. You'll need to plan carefully where to safely put the boat on the days you're working.
How Do I Make Money Living On A Sailboat?
Be Flexible – How To Make Money Living On A Sailboat
I guess I fall into an eclectic category. To earn money working on a sailboat you might need to have several different avenues of income, just in case one dries up.
When we first moved aboard we were living in a marina over winter. It had a great liveaboard community and a lot of kids. Being an experienced primary school teacher I could offer help in the form of tutoring, and made a little extra income this way. I did weekly lessons for different age groups, and I also helped out the parents that were home schooling their children on board. When we set sail this obviously dried up, so I had to find new income avenues.
I re-discovered my passion for writing though this website, writing diary entries for family and friends back home. This evolved into some copywriting work for sailing and travel websites, and I also started to discover ways to monetise my website and earn a little from my writing.
Patreon is a way for people who enjoy your content to 'pay' you. At first it felt like begging, but then I realised I put a lot of hours into the content on this site and people would pay to read a book or watch or Netflix. It feels good to be producing content that people really appreciate and get value from.
It's by no means a reliable source of income, and it hasn't been something I've pursued as much as I could have. I write when opportunities come up and when there isn't work to do on board. I do believe this could be a viable way of making a proper full time income if you were determined enough though.
---
Work The Winter And Sail The Summer
This is actually a great option for anyone who isn't sure how they'll make ends meet. Every country has an ideal sailing season. In the Med it is possible to keep sailing through the winter but it really isn't as pleasant, with big storms, cold weather and a sea you can't swim in without dry suits!
Rather than brave a winter out at anchor, or live aboard in a marina, just head home and work for a few months until you've saved enough for a summer of sailing.
The great thing about this option is that you don't need to get a job in your skill set (though obviously if you can you'll bring in more money!) Because the sailing lifestyle can be done relatively cheaply, you can find a job working bars over Christmas and you'll still be making enough to support yourself.
If you're keen to continue the adventure we've met people who go and work a ski season over winter. The money isn't the best and it's hard work, but ultimately you get to ski in the winter and sail in the summer – winner!
---
The Potential Problems
You'll need somewhere to live while you're working. If it's possible you could sail the boat home for the winter months and continue living aboard. If possible you could stay with family or friends. Adam and I have looked into buying a cheap camper van and living there for the winter. Or you could try and find work that includes accommodation such as a live in nanny or cleaner job.
---
Online 'Creative' Work
If you can write, edit, design, program, transcribe, research, teach and any other work that can be done online, you can find thousands of opportunities on the internet.
It's tempting to mention sites like fiver where you can offer your services. These are great to use as a platform for starting out, but in all honesty you won't get paid a decent wage for the work you'll end up doing. Use these sites as a starting point, to get clients, reviews and experience and then try to turn that into proper freelance work where you can charge what you deserve to be paid.
Another great source of finding work is through Facebook groups. Join groups specific to your skill set, or groups for digital nomads, where people will post job offers and you can potentially build a client base.
As digital nomad work becomes more and more popular, these sites are becoming more and more saturated. Teaching online for example has exploded, with anyone being able to offer teaching services online no matter their qualifications. As someone who trained as a teacher and has 12 years experience in a senior position, it's disheartening to be turned down for online teaching opportunities or for them to take 6 months to reply to my application. All this with the knowledge that I'll be paid less than the UK minimum wage to work for them!
---
Offer Your Services
If you're trained in a skill then you can offer it as a service to local cruisers. This works especially well for people who often frequent marinas, or who are living aboard in a marina over winter, just like my tutoring 'business' over winter.
Of course, it is absolutely possible to offer these services in an anchorages but it's harder to advertise and things like available power can be a problem.
Here are some skill sets that would do particularly well in the sailing world, that you may not have considered!
Hairdresser
Chef – bake bread to order, fresh pizza, cakes
Masseur
Yoga / fitness instructor
Photographer / videographer / editor
Taxi driver (if you have a car at a marina then giving lifts to the shops or airport is always a sought after commodity!)
Babysitter / nanny / tutor
Cleaner
IT specialist (Adam saved us a lot of beer money by offering his services to our marina community!)
Music teacher
---
Potential Problems
The sailing community is an amazing one, and you will benefit from this potential problem ten fold while you're cruising so don't curse it too much now!
In sailing, people are all too happy to offer help for free, in many different forms. Don't be too quick to ask for payment when helping others out. If you offer a service regularly then sure, make it clear you'd prefer a little pocket money, but be prepared to lend a hand on one off occasional for no payment (though often beer is supplied in plentiful amounts – which lets face it, is a great form of payment!)
Boat Maintenance Services
If you have a specialist skill in boat maintenance then you're one of the lucky ones! Boats always break, and you can't be an expert at everything to understand how to fix it all. If you have a specific skill you can advertise then it's possible to earn money from this while living on a boat.
Same rules as above though – sometimes it's nice just to lend a hand without expecting something in return. It's how the sailing community gets by out here!
Here are a few valuable skills you could utilise while sailing.
Engine maintenance
Sail repair
Plumbing or electric support
Delivery
Skippering
---
Potential Problems
If you're thinking of using this as a way of making money when sailing then just make sure you've done a little research into local laws and licences. We've heard horror stories of people breaking something on someone else's boat when they've been trying to help and the outcomes have got nasty. You want to make sure that if you're being paid for your services, you have a little bit of cover in case something goes wrong
Be aware too that most boatyards won't take kindly to someone stealing their business! There are ways round this (we know lots of people operating on the quiet), but just bare it in mind when planning for making money this way.
---
Sell Homemade Crafts To Make Money From The Boat
We know people who make a little money on the side from selling their homemade crafts, but I wouldn't say it brings in a full time income. The trouble with selling from the boat is that you don't have a wide enough audience.
This is one of those jobs that would be perfect to do alongside something a little more reliable.
We have seen people making money from selling jewellery and art work. You obviously have to find the people who want to buy these goods, so you have to get out and socialise. Still, it's a good thing to have up your sleeve as an extra bit of cash!
---
Sell Products Online
If you want to take your craft business to the next level then selling things online will help you do that. You can very easily set up shop on a site like Etsy, and advertise and sell your homemade products. A little research into SEO and keywords will help you a lot here, and obviously some decent photos of your products!
Potential Problems
Shipping is your biggest enemy here. We've seen cruisers get round this problem by 'employing' a family member or friend back home to handle the shipping side of things. But you'll need to leave them a batch of your homemade goodies before you go, or have a reliable way of shipping them back when they run out.
You can also use a dropshipping company if you're selling products found online. For example, many people sell things like personally designed t-shirts through dropshipping companies and this makes a little sailing income.
---
Make Money From Crewing On A Sailboat
If you can sail and you're happy to sail on other people's boats and under their instruction then there are always people looking for great crew to join them on passages.
A lot of people will pay for someone with sailing experience and knowledge of life aboard, and you'll usually have your expenses paid for too. Even if you don't get paid, you'll be getting accommodation for free, while you travel in the best way possible!
The money isn't great, but if you're after a way to live on a sailboat and get paid for doing just that, then this is your best bet. It's also the perfect way to find out whether you really want to live and work from a sailboat!
---
Making Money Living On A Sailboat Is Possible
As you can see, there a whole variety of ways to make money living on a sailboat. Unfortunately though, there is no 'easy' way.
Work is work, whether it's from a country cottage, a London flat or a sailboat in Greece. If you'd rather be on a sailboat in Greece then you absolutely can be, you just might have to work a little harder to make it happen (it's totally worth it, trust us!) Some of these work avenues might take time to get going. You might have to learn a new skill, or be a little more forward than you'd like when 'selling' your services.
The question is, how determined are you to make it work?
---