What to wear sailing isn't always an easy question to answer, but it's one of the most common questions asked (for obvious reasons!) Sailing clothes can differ greatly depending on where you're sailing, what you're sailing, and why you're sailing!
When we first moved aboard our sailboat I took literally every combination of clothes you can imagine. I had absolutely no idea what I would need the most and when I look back now I laugh at some of the items I thought I wouldn't be able to live without – those white jeans have long since been discarded!
In fact, my wardrobe was overflowing with stuff I haven't worn even once and since then I've had to have a pretty thorough cleanout. I've written this guide on what to wear sailing so that you can avoid some of my mistakes. Hopefully, if you're heading off on your first sailing holiday or even moving aboard a sailboat full time, this will really help you to narrow down the truly useful and essential items! An especially useful thing to do when you have a wardrobe the size of a swim locker.
As a quick summary before we dive right in, living on a sailboat means you'll be looking for a few key features in your sailing clothes.
The ability to keep you dry
Comfort
Practicality
Easy to clean
Weather protection (UPF sun protection or protection from the cold)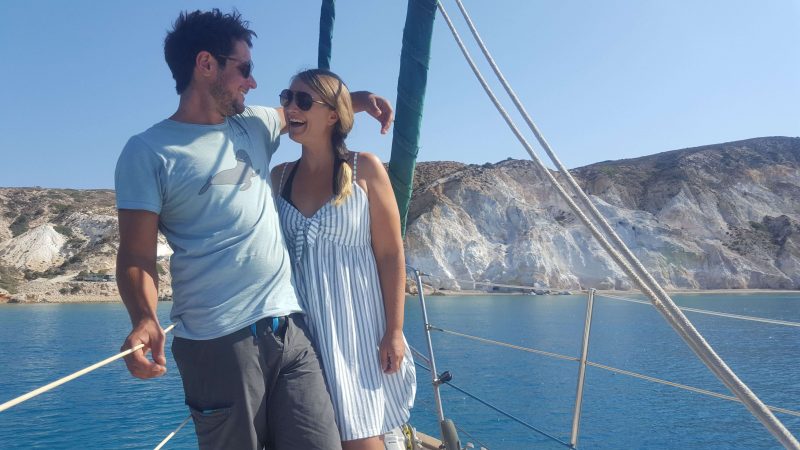 I'm going to assume that if you're asking the question 'what to wear sailing?', then you probably haven't been very often, and therefore you probably aren't going race sailing or heading off on a voyage to Antarctica (If you are please let me know, I would LOVE to hear about it!)
Therefore I've based this guide on my experiences of sailing in England and the Mediterranean, where the weather is changeable and you'll need to be prepared for all sorts.
If you're heading off sailing for a few days then you probably already have a lot of the essentials that you'll need to pack to have a really great time. If you're going to take sailing a little more seriously, and perhaps go every year, or even more often, then now is a great time to invest in some proper sailing gear.
---
Quick Guide On What To Wear Sailing
I've split this guide into three parts, practical advice for what to wear sailing in general, the essentials for people heading off sailing for a few days holiday, and the gear that's more important for longer-term sailing that we couldn't be without. There are also some extra sailing clothes you might find useful, advice on luggage and what to pack for time spent on land. I hope it helps!
Note: I haven't included safety equipment in this guide to what to wear sailing as I wouldn't count them as clothes – rather as essential safety gear! But I think it's worth mentioning that if you're spending time out on the water, a well-fitting life jacket and tether are non-negotiable. Check with the charter company whether they have suitable safety equipment aboard and if you have any doubts, you can pick one up online here.
---
Practical Sailing Clothing Advice
Essentials For The Casual Sailor
---
What To Wear Sailing: Practical Advice
Watch any romantic comedy where they head off sailing, or flick through sailing magazines and people are always wearing beautiful clean white clothes, or perhaps just a bikini and a large sun hat. If you're heading off sailing then you can think again! Here's why…
Colours To Wear On A Sailboat
I promise you that the minute you step on board a boat wearing anything white you will get dirty. Whether that's because you have to check the engine and get covered in oil, you spill food all over yourself as the boat is rolling through a wave, or you simply smother sun cream all over you, leaving some lovely yellow stains.
My top advice for what to wear sailing is really simple. Wear something dark. Ok, so it isn't the coolest of colours and if you're somewhere hot, then staying cool may be temptation enough to make you concede to ruining your clothes. If you can bear it though, darker is always better on a boat!
---
Fabrics To Wear Sailing
When I set off on this sailing adventure I imagined I'd be spending my days in my bikini, and that the problem would be covering up from the heat of the sun (which of course is a thing to consider). So I brought along some beautiful lightweight shirts and dresses that I could use to cover myself in the heat of the day.
Big mistake. Within days those lightweight clothes had rips and holes everywhere. There are so many things on a boat to catch your clothes on, when you're climbing in and out of the dinghy or running up and down the companionway. It really isn't easy to keep clothes looking their best, so make life a little easier and buy clothes that are made out of a durable (and in some cases waterproof!) material.
What To Wear Sailing: The Essentials
For The Casual Sailor
The essentials for what to wear sailing is most likely gear you already have lying around at home, with a few important extras that you might want to consider to make sailing a really enjoyable experience.
A Raincoat: A Must Have For Sailing In Any Weather
We'll start with the miserable sailing gear and get to the fun stuff at the end! Although you don't want to consider that it might rain on your sailing adventure, you'll be even more upset if it comes and you aren't prepared.
Sailing only really happens when it's windy, and when it's windy you get cold, and when it's wet and windy you get REALLY cold. Not great on a sailboat that most likely doesn't have heating!
You want a really decent raincoat when you're sailing, so that if the worst does happen you can still enjoy it (trust me as someone whose first experience of sailing was in the snow!)
I've given a few examples of quality budget options above, that will be fine for the odd day of sailing, as you won't want to splash out on a £100 sailing jacket that you're only planning on using for one sailing trip. Below there are some more technical sailing jackets that are worth paying a little extra for if you have the money to spare!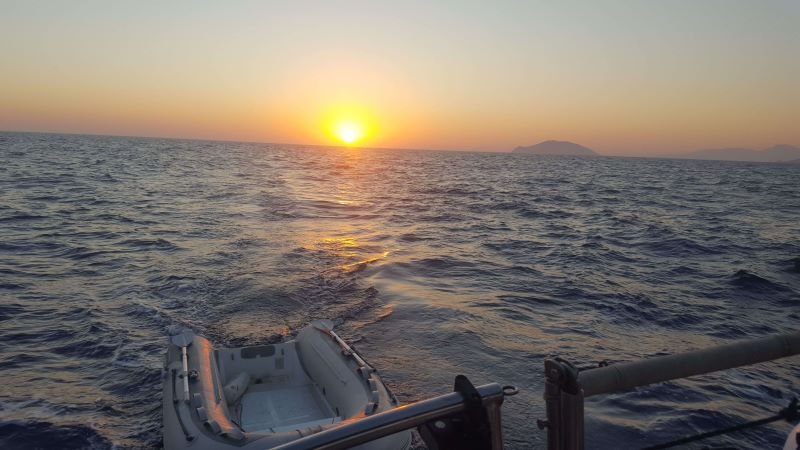 My advice is to get a waterproof jacket that's also windproof. Even when it isn't raining you can still get really cold when you're out sailing, and a windproof jacket can make all the difference. As someone who used to sniff at 'wind proof' gear, I am now a convert, and wouldn't sail with anything less.
Make sure it also has a hood. You will be so thankful for that, especially if there is spray coming over the boat. No one wants cold seawater running down their back on a rainy day!
If you're sailing for a few days in the Med in the height of summer, then waterproof trousers might be a little overkill. I'd still recommend grabbing a cheap pair of waterproof trousers just in case. Sailing is so much more comfortable when you have the right clothes for it.
---
Layer Up Your Clothes For Sailing
The best way to deal with the changing weather while you're sailing is to be prepared with lots of layers of sailing clothes. It can be bikini weather one minute and freezing cold the next.
Always bring a t-shirt, a long-sleeved top (preferably a thermal vest), a fleece top and then your raincoat that's windproof as your final layer. This fleece top is the perfect sort of layer for sailing as it's light and breathable, but will also keep you super warm.
I would also recommend bringing a cosy jumper for after sailing. There is nothing better than stripping off your wet clothes and getting straight into a warm jumper, and being handed a mug of warm hot chocolate to snuggle up with. Bliss!
Take some thermal base layer leggings and some socks for your bottom half, so you can layer up under your waterproof trousers.
Top Tip: Before you head out sailing have your layers to hand, preferably somewhere out of the way but easy to get to in case the waves pick up. We always leave out several layers on the bed before we set off, so we don't have to go rummaging around in cupboards to find what we need. It also means other people can find your clothes easily if you're busy on the helm.
---
Here Comes The Sun: What To Wear Sailing In Summer
Now that we're sorted with quality clothing for the cold weather we can think about the hot weather (I've got my fingers crossed for you!) Knowing what to wear sailing in the sun isn't too tricky, you can wear whatever you like! But try to follow my practical advice for sailboat clothing above to avoid ruining all your clothes!
Alongside the standard shorts and t-shirts, bikinis and swimsuits (we get all our decent quality swimwear from Surfdome for cheap!), and skirts and dresses, you'll want to think about sun protection, as it can be hard to find shade on a sailboat.
---
Shirt To Wear Sailing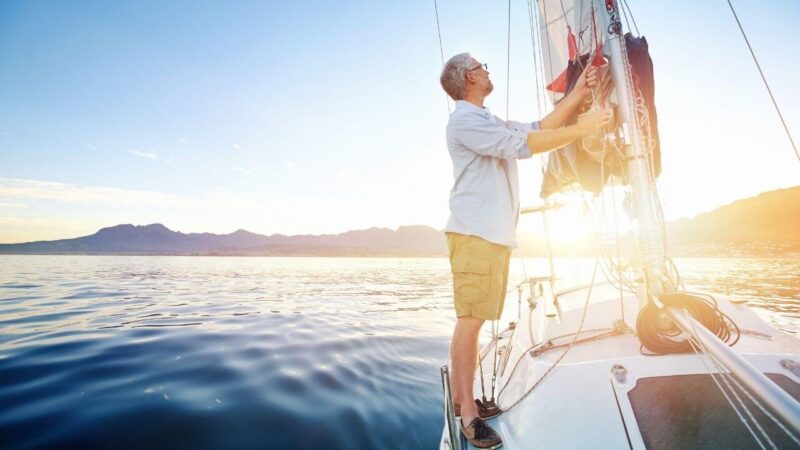 I always have a shirt at the ready to shove on over whatever I'm wearing. Shirts are also really great if the wind is a little chilly. Alternatively you could grab a long-sleeved swimming vest, making it easy to go between boat and sea! It's an essential part of my sailing outfits.
---
Sun hat
A sun hat is also important on a sailboat. By far the most practical thing to wear as a liveaboard sailor is a hat with a chin strap. Sexy, I know! But once you've lost several nice hats to the sea you will give in and get yourself one! An alternative would be a baseball cap with a lanyard type string attached, so it can't blow away. Check out our post on the best hats for sailing.
---
Sunglasses To Wear Sailing
Adam and I have lost 6 pairs of sunglasses in the sea so far, and I'm pretty sure there'll be more tragedies to come. If you don't want to lose your £100 sunglasses into the darkest depths of the ocean, consider buying a cheaper pair for sailing.
And if you are buying a new pair, then choose some that are eco-friendly, so you aren't adding more plastic to sea if they do happen to slip off. Mini Tree make a whole load of bamboo sunglasses in a range of styles and colours at a really affordable price!
---
Top Tip: This pack of lanyards is super cheap and you can use them to prevent any losses at sea. They'll attach to sunglasses and anything else you want to keep from flying away on a windy day.
If you're off on a romantic sailing holiday and want something a little nicer, I absolutely love the Sun Soul Sisters range of sunglasses chains (also great for face masks). There is a range of different styles including proper chains, precious stones, colourful rope designs, and my favourite shell designs! They ship anywhere and make great gifts too!
---
What To Wear On Your Feet When Sailing
Adam and I tend to sail barefoot, but we know our sailboat like the back of our hand now. If I were to go sailing on someone else's boat then I would wear shoes. When you don't know where things are, boats are a nightmare to navigate.
There are things to stand on, slippery areas, and lots of holes to twist your ankle down. Wearing decent footwear when on board will help a lot!
If you're just going day sailing then you don't really need to invest in anything fancy, just make sure the soles of your shoes are white (or prepare to deal with an angry boat owner when you scuff up their beautiful white decks!) and make sure they have some grip.
A lot of trainers will be perfect. I love my Nike trainers, because they're super lightweight, so they dry quickly, and they pull on and off fast so they're perfect for getting on in a hurry! Converse or hiking sandals are also great shoes to wear for sailing.
---
What To Wear Sailing: Proper Sailing Gear
If you're likely to be sailing in some bad conditions, or you're starting to take sailing a little more seriously, then you might want to consider getting some proper sailing gear. Living on a sailboat I've experienced all sorts of different conditions, and I now know what I really need to wear for sailing and what I can get away with spending less money on.
Some sailing brands that I personally have found to be high quality are Musto, Helly Hansen and Gill. That's by no means an exhaustive list, just a few that I have found reliable while trying out different sailing gear. Here are the top pieces of sailing specific clothing that I would invest in for life at sea.
---
A Proper Sailing Jacket
Sailing jackets are designed to get wet over and over again, and are made to be tough and durable. They come with features that make sailing in horrible weather that little bit nicer, and you can't put a price on comfort in those situations.
I would still look for gear that isn't white, if you don't want it ruined straight away. But something else to look out for is a reflective/brightly coloured hood or jacket. If a worst-case situation arose and you fell overboard, a brightly coloured jacket might be a deal-breaker. My jacket is bright red with a fluorescent yellow hood-can't get much brighter than that!
Try to find out about pockets. Does it have enough, and are they waterproof? If you're expecting bad weather sailing, does it have waterproof cuffs and neckline? Does it have a high cut collar to protect as much of your face as possible?
I would say if you're prepared to spend money on only one piece of sailing clothing, then this should be it. You can find more quality sailing jackets here.
---
Top Sailing Clothing: Waterproof Trousers
When thinking about what to wear sailing you may not have consider waterproof trousers, but I have to say I have found them essential for bad weather sailing and couldn't be without them on board. They are excellent at keeping you completely dry, which means they keep you warm. Sailing trousers are also wind proof, adding even more protection from the cold.
I love my sailing trousers that come all the way up, held up by braces. They aren't the most practical when I need the toilet, but there is absolutely no way any seawater is getting in, and I feel so snug in them.
Adam prefers his normal sailing trousers. I guess they are much easier to get on and off. But they don't keep you as warm, so if you feel the cold like me then try to opt for some with braces.
---
Nice Extras To Wear Sailing
Along with the sun protection extras we listed above, there are a few other things we couldn't live without for sailing longer term. These liveaboard sailing clothes have made life aboard a lot nicer for us, and hopefully they will for you too!
Gloves To Wear Sailing
Grab yourself a pair of sailing gloves if you're going to be sailing frequently. After a particularly windy day of gybing my hands were red raw from working the lines, and I really wish I'd had a pair of gloves then! I got myself a fingerless pair, which are great if you're going to be doing lots of knot tying. If you know you'll be sailing in the cold, then get yourself a proper pair to save your hands from the cold.
I would definitely consider this an essential piece of clothing for sailing.
Another great reason to grab yourself a pair of sailing gloves is that they save your hands from rope burn. One of the first mistakes I made when I was out sailing was to work the lines in heavy weather with no gloves on. The line slipped dangerously through my hands and trying to grip caused rope burn all down my palms. Since then I've always considered gloves an essential sailing wear item!
---
Polarised Sunglasses
If you're out on the water all day you'll want to protect your eyes properly, and polarised sunglasses are also perfect for helping you see beneath the surface of the water for any tricky anchoring or mooring. They really do make a difference. These are an essential piece of our sailing outfit – check out our guide to the best sunglasses for sailing.
---
Face Buffs For Sailing
Face buffs are GREAT! They can be used in all sorts of different ways as an extra bit of protection from the wind and cold. I primarily use them for covering my face, and I love that I can pull it up and down easily for changing weather or clearer communication. I also use them as hairbands – they keep my hair out of my face, under control, and the keep my head and ears warm.
I've even wrapped them around my wrists and hands as extra warmth when I've left my gloves below. They fit so easily in a pocket that they're always available and on hand!
Personally, I find the thinner ones the most useful (it doesn't get THAT cold here in the Med), but if you're cold weather sailing then grab a fleecy one too – they really do make a massive difference in the wind.
---
What To Wear Sailing: Luggage
This isn't really something you'll wear sailing, but it is super important to mention! If you're heading off for a holiday on a sailboat then you need to remember it's a boat! You'll have a very small living space and an even smaller cabin.
Optimise your space by taking a bag that will fold down. Hard suitcases are every sailor's worst nightmare – there just isn't room for them. Bring a soft rucksack or holdall so that once you've unpacked, your bag takes up the smallest of spaces!
Extra points if your bag is also water-resistant and rugged. There's every chance your bag will get wet at some point!
---
Don't Forget Clothes For On Land
When all the sailing is done and your sailing clothes are wet, stained, ripped and generally looking like they've done their main job-protected you from the elements – you're going to want something a little nicer to wear for those sunset cocktails!
Don't forget to bring a nice outfit or two for when you head to land or relax in the cockpit. Hopefully, your dinghy will be in better condition than ours and you won't have that to contend with too, but remember there will still be clambering involved so wear shoes that can get wet (or don't put them on till you're off the beach) and roll up any long-legged trousers or skirts, and make sure you're wearing nice underwear for climbing on and off piers!
---
So that's our list of must-haves when people ask us what to wear sailing and the things we couldn't live without as full-time liveaboards. For anyone about to start their liveaboard sailing journey, check out our guide to eco-friendly travel products you must have on board, and our top tips for sailboat storage. We've also got lots more advice about life onboard a sailboat in our cruising tips section.
---
Heading off sailing? Grab a free months trial of audible using this link and relax with an audiobook on those balmy evenings under the stars.
---
Have we missed anything? Let us know you're favourite sailing clothes below, and follow us for more top sailing tips!
About Us!
Hi there! We're Emily, Adam and Tiny Cat, liveaboard sailors travelling the world on our 38ft sailboat and writing about it as we go. We hope we can inspire you to live the life you've always dreamed, whether that's exploring the world or living a more simple way of life in a tiny home.