How to start a life at sea – the ultimate guide for anyone hoping to 'jump ship'
'We're going to put a tack in', Adam calls from the helm. I jump to the genoa sheet, winch in hand, and prepare to put in the manoeuver that will get us back on course. As the compass swings round and the sails start to luff, I winch in hard and the boat begins to pick up speed again, crashing upwind through the waves and causing a spray of bioluminescent algae to light up our path.
A year ago I would have had no idea what any of these terms meant. Learning to sail was an unreachable dream and actually living on a sailboat hadn't even crossed my mind. It was something that normal people like me just didn't do. But the realisation that we were unhappy with the lives we had back in the UK forced my boyfriend Adam and I to seek something more, and chase a shared dream of sailing the world.
When Adam and I first met two years ago and he told me about his crazy plan to buy a sailboat and sail around the world, I should have run a mile. I had a teaching job I loved and a little house in the town I grew up in. I was successful and comfortable. And constantly wondering why that wasn't enough.
I couldn't believe my luck to have found someone that wanted an adventure as badly as I did, and we spent long summer evenings scheming our escape. We looked into volunteering in the Amazon rain forest or backpacking around Nepal. We thought about becoming chalet hosts and doing a ski season. We researched moving to New Zealand, or Australia.
The trouble was, we simply couldn't afford it. So as time went on we let our plans become dreams, and dreams don't really come true.
We settled into life in our 30's together. Adam worked longer and longer hours building a company he had started in London and spending all his salary on his daily commute. After a change of head, my job as a primary school teacher was leaving me stressed and anxious. We were overworked and tired and living for the weekend. The weeks went by in a blur as I spent my evenings working hard for a promotion I had applied for until one Monday morning I called Adam in tears.
I didn't get the job.
I needed a long bath and a good cry, but I returned home that evening to a bottle of bubbly and a very giddy boyfriend. 'We're celebrating' he declared. I looked at him, confused. Had he not been listening to our earlier conversation? 'To the beginning of our adventure,' he toasted. We would never be financially stable, travel would always be a risk. We just needed a push, and this was it!
A year from then we had quit work, bought a sailing yacht in Sicily, and said goodbye to the life we had always known. It was exhilarating, uncertain, terrifying and totally worth every sleepless night, every argument and every tear.
Why Chase A Life At Sea?
If you're looking to start a life at sea then you probably have some expectations, some reason why the thought of this lifestyle appeals to you. Some people have already found a love of sailing, going at weekends and on holidays, others know nothing about sailing but have fallen in love with the idea of the lifestyle. They want freedom and adventure, or perhaps just to live a more simple life.
For me it was the aspiration to follow in my Granny's footsteps. From the very first moment I heard about her Atlantic crossing I knew sailing was something I had to try.
She braved violent storms and towering waves thousands of miles offshore. The thought of such an adventure-filled me with awe and terror and longing. I wasn't old enough to understand what sailing the Atlantic meant, I just knew that she had seen things and done things that I could only dream of. I wish she was still alive now so that I could ask her all the questions I should have asked back then.
I wanted to learn to sail, but I'd never even considered the possibility of living on a boat. That was Adam's dream. He had been living on a houseboat on the Thames, using it as an opportunity to learn all he could about boat maintenance before he got himself the sailboat he had always dreamed of having.
While Adam and I were brainstorming travel options, I knew this was a once in a lifetime opportunity. If we didn't go big, and chase our dreams now, then when would we? We had done the hard part-deciding to quit work and leave behind everything we had worked so hard for. Now we had to be determined not to settle for the easy option again. We had to fight for the life we really wanted.
Planning To Run Away To Sea
Luckily sailing the world is easier now than ever before. As we began some thorough research we discovered that there are lots of options for wannabe sailors, the problem is choosing the right option for you!
Book A Course
The traditional way to start a life on the sea is to get some proper training. To skipper your own boat you will need qualifications, and to get those qualifications you'll need to learn how to sail. Probably the easiest way to learn to sail is to book onto a sailing course, with the RYA courses being the most popular.
To begin with, you can take a competent crew course, which will enable you to be a useful member of crew onboard a sailing boat. You'll learn to tie endless important knots, work the lines, steer the boat under sail and how to tie the boat to the dock safely. The great thing about taking a competent crew course is that you'll get to do a little networking, and meet other keen sailors, some of which will be looking to take on crew on day sails or longer trips.
Become Crew To Start A Life At Sea
The other way to find sailing opportunities is through websites like crewbay, where sailors advertise the need for crew. They will specify what they are looking for, and quite often they are happy to take people with no experience on board, as long as you're willing to listen and learn as you go.
Remember, if you have no sailing experience at all you will need to adapt quickly and be prepared to follow orders from a stranger. Every sailor will have a slightly different way of doing things, but their top priority will be to keep their boat and the people on board safe. You'll have to accept that voices may be raised in tense situations, and be prepared to roll with it!
Hitchhike The Oceans
Another option for people wanting to sail the world is to join a Facebook group like 'sailing hitchhikers and crew'. You can advertise yourself and your skills, and be connected with sailors who are looking for some help. This tends to be for people who are wanting to get from one place to another and are looking to spend more than just a day on the water. You don't need sailing experience (though it's better if you do!)
The people in this group are keen to meet others that will add to their experience at sea, so if you can cook well, or you play an instrument, or you know how to fish or dive, then get all that into your profile.
Buying A Sailboat To Start A Life At Sea
Adam and I considered all these options and more, but we couldn't stand the thought of returning home after a year and re-starting life as we knew it. We needed something that could be more permanent if we wanted it to be, which is how we decided to buy our own boat.
If this option sounds like the right one for you, then take a look at our guide to buying a bluewater sailboat, which details all the findings from our months and months of research into the whole boat buying process. Hopefully it will make such a complicated subject a little clearer for you!
The Challenges Of Starting A Life At Sea
Living on a boat is not easy. The best moments aboard can feel euphoric, and the worst can feel catastrophic. It is a life of extremes, in every sense. If you're hoping to buy a sailboat to sail the world in, then you'll need to do some very careful planning, and give consideration to what it's really like to live at sea.
The very real and obvious disadvantage of buying a boat is money. Sailboats aren't actually too expensive, you can pick one up an older one for around the price of a brand new car (I know which one I'd rather have!) But whether you buy a shiny new boat or an old decrepit one, they are going to be a whole lot of work and they are going to cost you a whole lot of money.
We did an extensive budget sheet before we bought our boat, taking into account all the work we would have to do on her to get her capable of crossing oceans. Within the first week of sailing her, one of the major systems onboard broke and needed replacing. That was £1000 worth of parts that we hadn't already budgeted for. You never know when you'll need to replace old parts, or even new parts. People joke that boat stands for 'Bring Out Another Thousand', but it's not very far from the truth!
Boat maintenance is the next thing you'll want to consider. Do you know how to fit a bilge pump, or fix a broken chart plotter? Are you prepared to get hoisted to the top of the mast to fix a broken navigation light? Do you mind crawling around under the engine for hours on end to replace a worn-out pipe? The university of YouTube is a marvellous thing, but you have to be prepared to get your hands dirty!
To skipper your own boat you'll need a qualification and a whole lot of problem-solving skills! On calm days, sailing can actually be quite boring (again, to the extreme!) but when things go wrong at sea, they go wrong fast. You'll need to be confident in your abilities to sort out problems quickly and calmly. I'm still working hard on this! Luckily, Adam is a natural. Sailing your own boat without anyone else giving orders can be wonderful, and it can be terrifying. Make sure you're prepared for some pretty scary times and armed with the information to deal with them.
Should You Start A Life At Sea?
We set out on this adventure with an empty sailboat and a whole lot of unanswered questions. Since then we have become qualified sailors, plumbers and electricians, navigators and weather forecasters. We have watched dolphins surfing the waves from the bow of our boat, we've slept under skies full of stars, we've anchored off deserted beaches and swam in seas that light up after dark. We've fed ourselves with fish caught straight from the sea, drank cocktails around a fire on a secluded beach and experienced the forces of nature in a way I could never have imagined.
I spend every single day with the man I love. He has seen me covered in oil as I successfully fix something on the engine for the first time, he's taken orders from me as I've manoeuvred the boat to safety. He's sat up half the night, watching that the boat doesn't drag anchor in a storm, so that I can sleep soundly. He has watched me battle with my insecurities and fear, and come through the other side smiling.
We've had more disagreements than ever before and raised our voices at each other countless times. But we've also never communicated better or needed each other more. We've become a team, and a damn good one at that!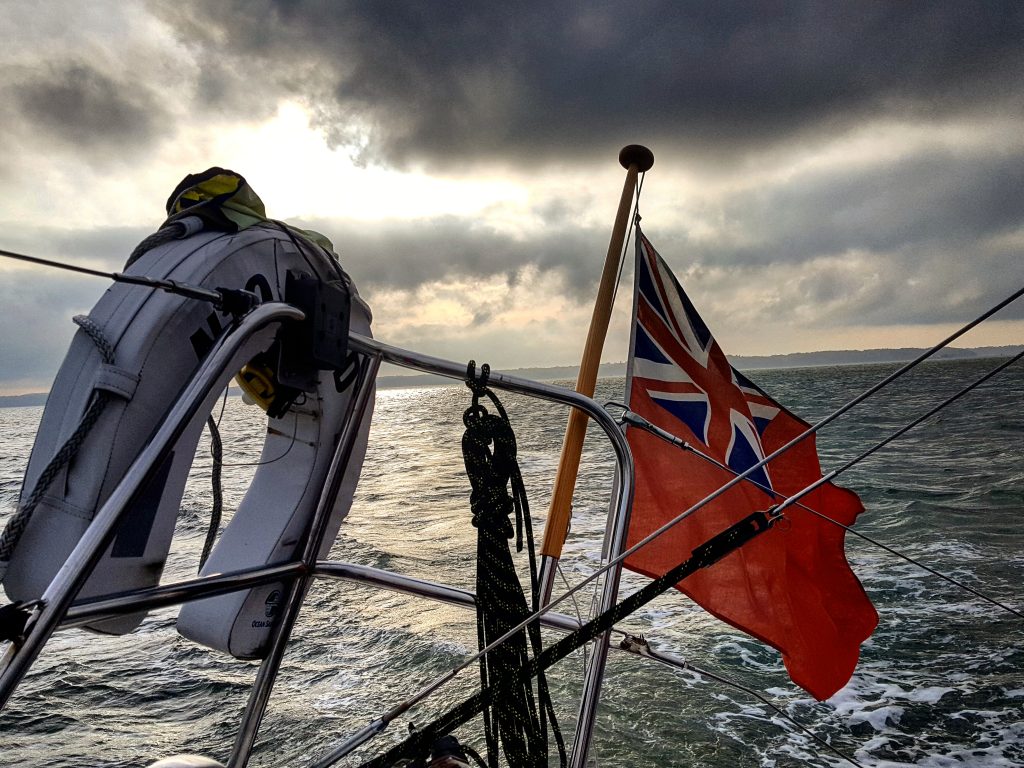 An unexpected benefit of buying our sailboat has been the money we've been able to save. As I said before, sailboats are expensive, and there will be no escaping that! But the cost of living is so much less than we thought it would be.
Without bills to pay, a car to run, a daily commute or meals and nights out, we are actually so much better off than we were before, even with the endless boat work. We work three days a week and save more money now than when we had full-time jobs.
Our boat is now full of the clutter we have collected over months of really living, and we are full of excitement at the beginning of every day. I wouldn't trade this incredible lifestyle for anything. We don't have a long term plan anymore, we are happy to go with the wind. Perhaps one day we will even make the Atlantic crossing, and I will find the answers to all the questions I wish I had asked my Granny many years ago.
If you've got any questions about how to start a life at sea that we haven't answered then drop us a comment below and we'll be happy to help!