48 hours in Charleston SC is long enough to get a taste for this vibrant, historic city but short enough to leave you hungry for more. If you're looking for a little of everything – exciting history, culture, incredible dining, beautiful architecture, and sea views to boot – then Charleston is a weekend getaway dream destination.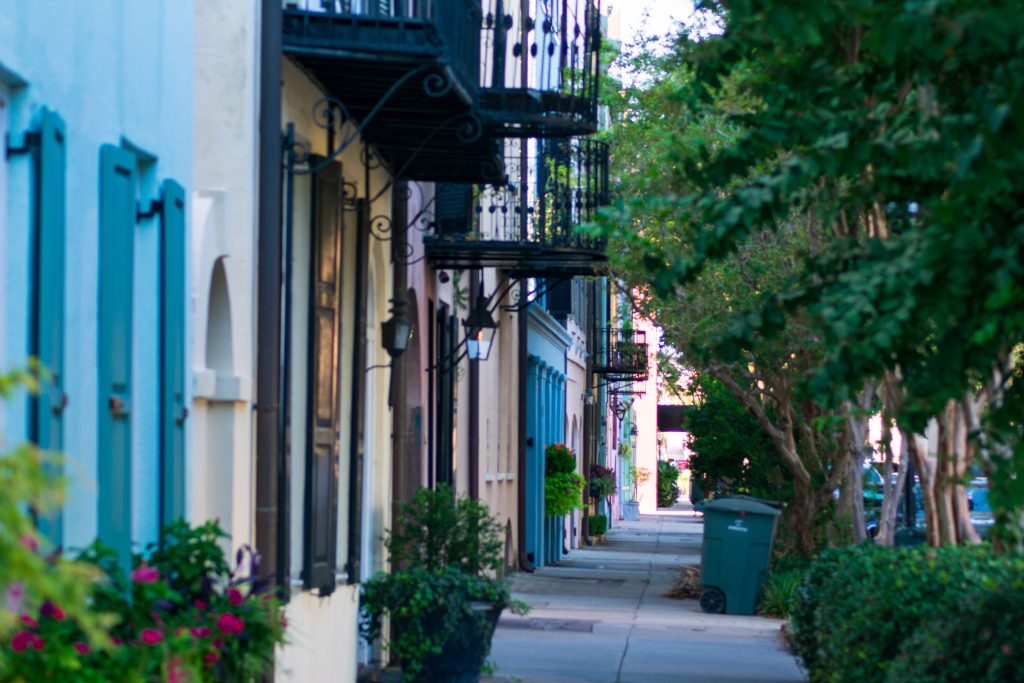 We had a little longer than 48 hours in Charleston SC so we got to work out what should really make the top cut for the must-do things in Charleston in a weekend. We have made sure you'll really get a taste of all the best bits, and if you're still wanting more by the end of your 48 hours in Charleston then you can check out some of the other great things to do here on your next visit!
---
Jump To In 48 Hours In Charleston
Where to stay on your 48 hours in Charleston
Day 1 of your 48 hours in Charleston
Day 2 of your 48 hours in Charleston
If you have more than 48 hours in Charleston
Before Your 48 Hours In Charleston
As you only have 48 in Charleston you're going to want to make sure you've organised a few things in advance so you're not wasting time on admin when you arrive.
We would recommend booking at least one history-based tour as this city has so much more to offer when you know about its background. The most popular activity booked in Charleston is a horse and carriage ride, which wins hands down in terms of things people rate about their visit here! We'd also recommend booking a food-based tour if you can fit it in – food is definitely one of the things Charleston does best!
---
How To Get To Charleston
If you live close by then driving is your best option. Most hotels offer parking for a small cost, which is well worth it for the ease and security. With this itinerary, you won't need to drive anywhere as long as you stay quite centrally, but there are a few attractions worth seeing just outside Charleston if you have the time which I've detailed at the bottom of this post.
If you don't have a car then no worries! Charleston International Airport is about 20 minutes taxi ride away from Charleston center, so grab a taxi or a hire car and you're good to go! This is one of the cheapest services we could find and will cost you under £40 – book in advance so you don't waste time faffing at the airport!
---
Where To Stay In Charleston
With only 48 hours in Charleston, our advice is to stay as central as possible and head to the beautiful historic district to soak in as much charm as you can.
You'll want to make sure your room is booked in advance. Check out the mid-century inspired The Dewberry hotel or Hotel Bennett for Charleston's finest accommodation in a great central location, or take a look atBarksdale House Inn for something a little more modest but with no less style and character.
For your own slice of history head to the John Rutledge House Inn. It's exactly what the name suggests – the former home of John Rutledge. Staying here is quite the claim to fame, so it's a great option for a short stay in Charleston.
If you're only in Charleston for two nights then you'll want to make sure they're two of your best so treat yourself! If your hotel offers early drop off then get this booked in so you can check in straight away and head out to explore.
For more accommodation ideas head here!
---
Must Book Tours And Restaurants
Avoid disappointment and book any tours that take your fancy in advance. We recommend the ones listed below, though you could substitute them with something that suits you better if you so desire!
If you're a food lover then you won't be disappointed by Charleston, but you may be disappointed by the waiting list for some of its most renowned restaurants. We recommend you book a table in advance if you're keen to choose where you eat. Husk and FIG are two of our favourites, but we also loved Chez Nous if you didn't get in early enough for FIG's extraordinarily long waiting list!
If you are here mainly for the food (we don't blame you) then check out some of Charleston's food tours and substitute it for one of the other activities below!
If you're keen to sample the best of Charleston's nightlife then have a look at the lineups in Charleston's best music venues and book a ticket in advance for a show. Music Farm and Charleston Music Hall are two to check before your 48 hours in Charleston!
---
Day 1 Of Your 48 Hours In Charleston
In The Morning
11 a.m.: Once you've arrived in Charleston check-in, drop off your bags, freshen up, and get your walking shoes on! It's time to see what the beautiful city of Charleston has to offer.
Note: If you couldn't book early check-in then not to worry, we've found this luggage drop service conveniently located in Charleston so you can leave your luggage for the day while you explore and pick up when your room's ready!
---
12 p.m.: Head to Queen Street Grocery for a bite to eat after your journey. This classy cafe opened in 1922 and has been a little of everything over the years – from an Apothecary to a full-blown Grocery Store and now a trendy cafe. Order one of the signature crepes or hot-pressed sandwiches to go and head to the nearby Colonial Lake park for a scenic picnic.
From here you can walk to the nearby Battery and White Point Garden and explore some of Charleston's historic past. Walk the seawall promenade like many before you and make sure you don't miss the Insta-worth Antebellum homes in all their stately glory.
---
In The Afternoon
2 p.m.: It's time to get properly acquainted with this cities rich historic past. This historic walking tour is one of the best and will take you to pre-and-post colonial homes, storefronts, churches, and public buildings while your knowledgeable guide recounts stories of Charleston's successes, failures, and sometimes gory history.
We love walking tours as they're the perfect way to get a taste of a new place before delving deeper. This is definitely a city that demands you get to know its past!
If you're here in the heat of the summer then go for something a little different (we were here in August and just standing still outside was too much at times!) An air-conditioned bus history tour might be just what you need to see the city and learn about its past without needing to head straight home for a shower!
4 p.m.: You're probably peckish after all that walking, so head straight to Delaney Oyster House for a glass of champagne, oysters and caviar – when in Charleston, right! This is a really cute place to enjoy some of what Charleston does best.
5 p.m.: Enjoy a late afternoon stroll along the Charleston Harbor and see the "famous" Pineapple Fountain. Then take a quick walk along one of the connecting cobblestone streets up to East Bay Street and you'll come across Rainbow Row, one of Charleson's most Instagram worthy sites. If this doesn't take your fancy then why not visit one of Charleston's many beautiful churches. Saint Michael's is a favourite.
---
In The Evening
7 p.m.: There are so many incredible places to eat, but with only 48 hours in Charleston make sure you get it right! Husk is the restaurant that kicked off chef Sean Brock's empire and it focuses on mostly Southern cuisine. It's the perfect place to get a real taste of the area. The menu changes regularly but you can expect to enjoy dishes like deviled eggs with pickled okra and okra stew with Carolina gold rice.
8 p.m.: There's plenty to do in Charleston in the evening and you don't necessarily have to book in advance if you're happy just going with the flow and enjoying the ambiance.
You might want to check out the lineup at one of Charleston's famed music venues though for something a little different. Music Farm or Charleston Music Hall often feature pretty big names so you should check out the lineup before you go.
10:30 p.m.: Finish off your evening with a nightcap at Doar Bros, a hip cocktail bar run by renowned female mixologist Megan Deschaine. You'll have trouble staying for just one though, with such a large range of delicious cocktails on the menu!
---
Day 2 Of Your 48 Hours In Charleston, SC
In The Morning
8 a.m.: You'll want to be up early to avoid the queues at Callie's Hot Little Biscuit. They serve a variety of piping hot award-winning biscuits, pimento cheese sandwiches, and a range of other delicious and locally inspired breakfast goodies. You can also buy some of the treats they sell there to take home, so it's the perfect place to get a pressie for loved ones you left at home!
9 a.m.: Head to the Gibbes Art Museum for some morning culture. Gibbes is one of the oldest art museums in the United States and includes over four centuries of paintings, decorative works, sculptures, and other works from American artists like Angelica Kaufmann and Conrad Wise Chapman. It's the perfect place to start the day.
11 a.m.: Join a cruise along the historic Charleston Harbor aboard a replica 1920s-Bay-Steamer. This is a really cool thing to do in Charleston – it may have even been our favourite. You'll see the city from the water and visit some of Charleston's most famous historic sights, including Fort Sumter where the first shots of the civil war were fired.
If history isn't your thing then you should go along for the ride itself. You'll see some incredible wildlife (if you're lucky!) including pelicans and even dolphins. Book in advance here – this trip is a real highlight.
---
In The Afternoon
1 p.m.: For lunch go to Rodney Scotts BBQ. Charlestons BBQ scene is big and you can expect some of the best here so hopefully you're hungry! They specialise in whole hog BBQs, using hardwood embers to impart a unique flavour to the meat – BBQs really are an art form here! Try to save room for Ella's banana pudding, the perfect end to the perfect meal.
3 p.m.: Walk further down King Street to peruse Historic District's boutique shops. You'll find shops like Ro Sham Beaux selling stylish coastal home décor and Blue Bicycle Books, with its rabbit warren of rooms and rare, vintage finds. If you can find it nestled down an alleyway then take a look in The Commons, a tiny shop selling American-made homeware like hand-blown glass decorations and ceramics.
---
In The Evening
5 p.m.:Prohibition, a speakeasy-style bar in the heart of Charleston, offers $1 oysters on the half shell, plus $5 snacks, classic cocktails, and select beers Monday through Friday from 4 to 6 p.m. This is a happy hour that's worth showing up early for! Plus you might need a little dutch courage for your next activity!
6 p.m.: I love a good scary story and Charleston's ghost tour is full of them. See and hear the little-explored areas of Charleston as you delve into some gruesome historical stories. You can book this tour at 8 pm too if you're visiting in the summer months and want to get the full scary experience in the dusk light.
---
8 p.m.:FIG is the restaurant of choice in Charleston for many, but you'll have to book this restaurant about a month in advance to stand any chance of getting a table. If you've been super organised then expect traditional low-country cuisine done to an extremely high standard. Just ask the waiting staff what you should have – they've all been specially trained to know what they're talking about!
If you're a little less on top of your life admin like me, then make your way to Chez Nous instead. In an off-the-beaten-path residential neighborhood, this tiny restaurant feels more like someone's home in the south of France and it's utterly charming. The menu changes every day (you can find it on Instagram) and you'll have a choice of two starters, two mains, and two desserts, all delicious French cuisine in an intimate setting.
10 p.m. End your 48 hours in Charleston at The Rooftop Bar at The Vendue. You'll get the best views of Charleston Harbor and Waterfront Park lit up at night, along with a variety of snacks and drinks. Watching the world go by below is the perfect way to end your weekend in Charleston.
---
With A Little More Than 48 Hours In Charleston
If you have a little more than 48 hours in Charleston or you don't fancy one of the above activities, then there's still a lot more to see and do! I've listed some more of our favourites below (some you'll need a car for).
And if you're still keen to see more then we've put together 45 of our favourite things to do in Charleston SC, including some great options for nighttime activities and things for those that love the outdoors. 48 hours in Charleston really isn't enough once you've seen the list, and we're pretty sure you'll be coming back for more soon!
As you can see, 48 hours in Charleston SC will be 48 hours well spent! You might come home 10lbs heavier, but you'll also come home 10x happier.
Let us know your favourite things to do on a weekend in Charleston below, and if you enjoyed this article then give it a share and follow us for more travel inspiration! Thank you!
Check out the story version of 48 hours in Charleston SC.