Finding romantic things to do in Charleston, South Carolina, is not a hard task. This city oozes charm, culture and, you guessed it, romance! From it's pretty little side streets to it's candle lit restaurants, you will immediately feel the romance here. But if you're looking for something a bit more special to make your romantic trip to Charleston really stand out, then look no further than this list of the most romantic things to do in Charleston SC.
I wasn't surprised to learn that Charleston was voted as the most romantic city in America by Travel and Leisure. When I visited there were loved up couples in every corner, enjoying a hand in hand stroll along the sea front, or cuddled up on a bench. It really did feel like valentines day in the middle of July.
I've included my top ten romantic things to in Charleston, and some extras for good measure. It would be impossible not to find something that suits you and your loved one. I've tried to make it easy for you to plan by including links to the most informative websites and tours, meaning less time scouring the internet and more time getting ready for that hot date!
When To Visit Charleston
We visited Charleston in July, and I have to admit that it might not be the most romantic time to visit. If you come here during the summer months you can expect it to be very, very hot! Dripping with sweat isn't always the most romantic of looks, but that being said, it gave us the perfect opportunity to duck into lots of air conditioned bars and we could really make the most of the balmy evenings here.
Spring and Autumn bring beautiful colours, either from the fresh flowers or the fallen leaves. Winter is the perfect time to get cosy with the one you love by open fires and wrap up warm together on horse-drawn carriages, or if you're lucky enough to visit for Valentines day then you can really make the most of Charleston's romantic vibe.
Romantic Places To Stay In Charleston SC
If you're looking for the whole package then make sure you check out these romantic places to stay in Charleston SC before you book anywhere else! Make sure you book in advance, especially before key dates like Valentines and Christmas. Charleston gets booked up quickly!
Hotel Emeline
This romantic Charleston hotel is just pure luxury. It's one of the newer hotels in the area but retains the charm and friendliness of the historic town. It's perfectly located to explore the town, relax in the fitness centre or enjoy a cocktail or two in the bar! Head here for more information and prices.
---
The Vendue
This arts-focused hotel is bound to put you in a romantic mood. The Drawing Room restaurant focuses on locally sourced, seasonal American fare and there's a rooftop cocktail bar with incredible views. Extras include a daily art reception with wine and canapés, free bike hire and milk and cookies every night with their turn down service! For more information and rates head here.
---
King Street Home
If you're after your own little home in Charleston then check out this cute place. You'll have all the privacy you need, with your own kitchen and patio, and the location is ideal. For more information and rates head here.
---
And if you want more options then check out my post on the most romantic places to stay in Charleston SC.
---
Top 12 Romantic Things To Do In Charleston, SC
#1 Take A Horse Drawn Carriage Ride Through Charleston's Cobble Stone Streets
There isn't a more romantic way to see Charleston SC than byhorse drawn carriage. You'll feel like you've gone back in time, as you're shown around Charleston's beautiful famous sights. You'll be taken past antebellum mansions, gardens and churches and told all of Charleston's fascinating history. Just don't forget to hold each others hand as you climb in and out of the carriage.
---
#2 Sail Off Into The Sunset
The Schooner Pride is a classic 84ft tall ship modelled after the 18th century schooners that once filled Charleston harbour. It is the definition of romantic, with it's huge white sails and no noisy engine.
There are various packages available, including dolphin watching trips and sunset cruises. You can even 'push the boat out' and hire it for a private event, like a wedding or anniversary party. Guests aboard are welcome to join in the action, raising and lowering the sails with the experienced crew, or they can just sit back and enjoy the ride!
Why not bring along a romantic picnic and surprise your loved one with chocolate and strawberries as you sail off into the sunset.
---
#3 Get Lost In The Gardens Of The Local Plantations
Charleston boasts some of the oldest and most famous plantations in America. Choose between Magnolia Plantation and Gardens, Boone Hall Plantation and Gardens, Drayton Hall, and Middleton Place are all beautiful places to spend a day with your loved one. The houses themselves just ooze charm and sophistication, and after you can get lost together in the acres of perfectly kept gardens. The lakes and pretty bridges will make you feel as though you just stepped out of a romance novel.
---
#4 Visit The Morris Island Lighthouse Trail
The Morris Lighthouse in Charleston is a less visited romantic destination, but one of the most scenic. The lighthouse sits about a thousand feet off the coast, and it's obvious that it may not be there much longer due to the erosion from the waves. Even though it is no longer in use, it is still a wild and romantic sight, and definitely worth a visit.
To get there, head south of the harbour and take a short path from the north-east end of the last Folly Beach parking lot. It's a short walk away along one of Charleston's more remote beaches, and the walk alone is a perfect thing to do hand in hand with a loved one.
---
#5 Get A Relaxing Couples Massage
Pamper your loved one with a relaxing day at the spa. Of all the romantic things to do in Charleston, treating yourselves to a spa day has to be the most relaxing. Charleston has a range of fantastic spas, so you really won't be short on choice.
Earthling spa is located in downtown Charleston, SC in the heart of the historic district. It's been running for over 30 years and has been voted one of the top 5 spas in Charleston on numerous occasions. You can choose from a wide range of treatments, including a couples massage or facial. They also have a fully equipped Pilates studio and wellness boutique, to make sure you leave feeling truly refreshed!
---
#6 Take A Row Boat For Two At Cypress Gardens
Ok, so visiting a swamp doesn't sound like one of the most romantic things to do in Charleston SC, but we promise you it is very pretty! Visit the Cypress Gardens for a romantic stroll around the picturesque grounds, spot the wildlife that lives here and row your loved one across the silky still waters under the shade of the Cypress trees. Head to the butterfly house to see these beautiful species up close or explore the reptile house if you like a little danger!
#7 Enjoy Charleston's Culinary Delights
They say that the way to a mans heart is through his stomach, so why not book afood tasting tourto sample Charleston's famous traditional dishes. You'll get to try stone ground grits, Charleston benne wafers, Southern pralines, Lowcountry barbeque delights and a whole lot more, along with learning all about Charleston's long and rich history with food. It's also a great way to visit all the best restaurants and bakeries in town in a short amount of time!
---
#8 Head On A Wine Tasting Tour
If food isn't your thing then try drinking instead. Choose between a vineyard or distillery tour and be whisked away through Charleston's scenic low country to enjoy a day out in the countryside, sipping wine and enjoying the spectacular views and sunshine. This is the perfect romantic thing to do in Charleston.
---
#9 Get Spooked In Charleston's Haunted Jail
The perfect opportunity to squeeze up close to your partner. Walk through the hallways and cells of Charleston's Old City Jail to see the places where Charleston's worst criminals lived and died.
Charleston's notorious jail was in operation from 1802 until 1939, where it housed infamous criminals, ranging from 19th-century pirates to Civil War prisoners. It's haunted for sure, and one of the creepiest places in Charleston. You won't want to sleep alone after a visit here!
---
#10 Gaze On Charleston's Works Of Art
There is a wide range of art galleries in Charleston, and it would be easy to spend an afternoon getting lost in the great masterpieces on show. A great place to start would be at he Gibbes Museum of Art , which features American works of art that have a Charleston or Southern connection.
The Lowcountry Artists Gallery is the oldest artist-owned gallery in Charleston. There is a wide range of art available here, and the artists are often in shop, so why not stay awhile and find out about the inspiration behind the pieces. You could even treat your loved one to their favourite work of art!
---
#11 Stroll Down Rainbow Row, One Of The Most Romantic Things To Do In Charleston
Rainbow Row is the most photographed street in Charleston, and it's easy to see why. This pretty row of 13 colourful houses looks like something straight out of a magazine. I could have spent all day just imagining the lives of the people who have lived in them over the years. You can head down from either Waterfront Park or Broad Street to Rainbow Row, then continue on to the Battery.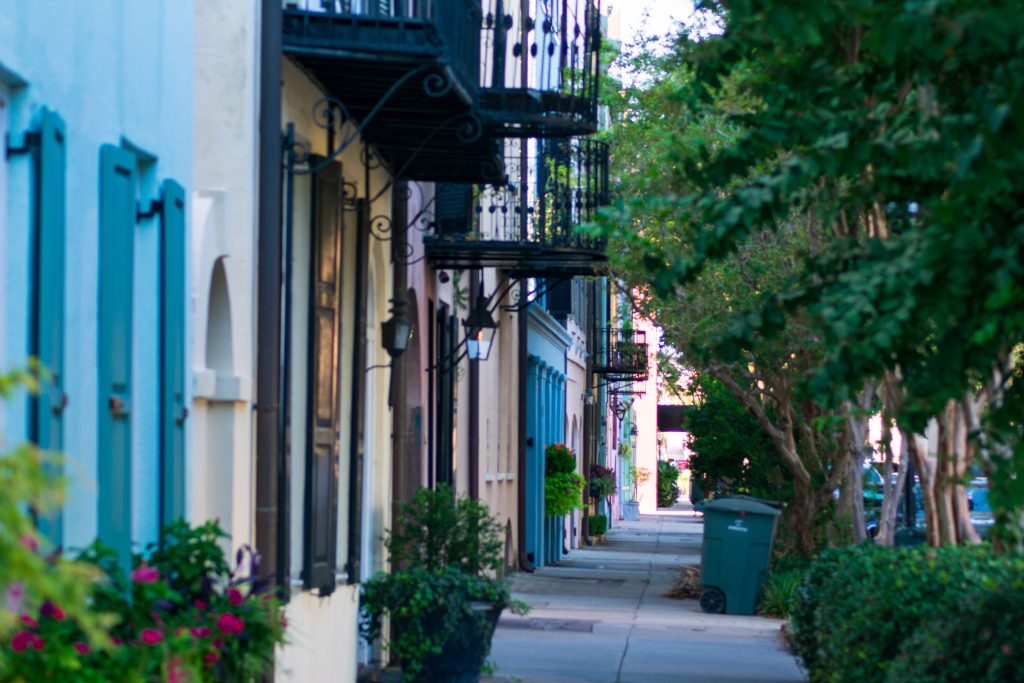 #12 Visit The Battery And White Point Gardens
The Battery is one of Charleston's most iconic sights. Walk along here as the sun is setting for the ultimate free romantic thing to do in Charleston. The views of the sea are just beautiful, and the cannons, oak trees and views of For Sumter and the Sullivan Island Lighthouse all add to it's romance. You can also do this walk at night, when the golden glow of the street lights add a whole different atmosphere to the place.
---
Romantic Things To Do In Charleston SC In The Evening
Candle lit dinners, dimly lit cobbled streets and plenty of fun activities make Charleston the perfect place for a romantic evening. We've put together some of the most romantic activities to take your date in the evening, and some of the most romantic bars and restaurants. Why not combine the two!?
---
Watch The Sunset From A Rooftop Bar
One of the most romantic things to do in Charleston is to watch the sunset from a rooftop bar, and The Vendue is the perfect place to do this! The Vendue has been awarded 'best rooftop bar' by Charleston city paper since 2007, so they really do know what they're doing! It's the perfect place to enjoy a cocktail with a view, and even better at sunset.
---
Enjoy a Show at the Dock Street Theatre
The historic Dock Street Theatre can be found in the French Quarter of downtown Charleston, and is the ideal place for a date night. The first ever performance at the Dock Street Theatre was The Recruiting Officer, which opened on February 12, 1736. Isn't that crazy!? Today you can enjoy a live show here knowing that this building has been entertaining people for hundreds of years.
---
Head To The Movies, One Of The Most Romantic Things To Do In Charleston SC At Night
The Terrace Theatre is like an old fashioned movie theatre, and anything old fashioned is romantic! It's small and quaint, and the perfect place to get close to your date. It plays a range of movies, so you don't have to get too old fashioned there! It's been voted the best movie theatre in Charleston for seven years in a row, so it's definitely worth checking out!
Matinee: $8.00
Evening: Adult : $11.00, Seniors (65+), Military, and Students (with Valid ID) : $8.00
---
Bowling At The Alley
Bowling might not seem like the most romantic of things to do in Charleston SC, but picture a little healthy competition and lots of fun, and you'll start to see why this may be the perfect date idea. The Alley is the only bowling alley in Charleston, and it doubles up as an arcade and a casual restaurant too. Spend the evening helping each other to perfect that swing, or win them a cuddly toy in the arcade.
---
RiverDogs Baseball Game
Nothing screams America like baseball, so if you're looking for a romantic evening out with a twist then look no further! The Riverdogs are Charleston's minor league baseball team and you can watch them play at the Joseph P Riley, Jr. Park. Seats closer to the field are the best for couples, and if you make it on a Friday night you'll be treated to a fireworks display after a home game. Now what could be more romantic than baseball and fireworks?
---
Charleston Concert Venues
Music Farm is a concert venue found in downtown Charleston that plays some big names (and some smaller names too). Head there for a night of entertainment and impress your date with your music knowledge and fantastic dance moves!
---
Charleston Ghost Tours, One Of The Most Romantic Things To Do In Charleston SC
Nothing will bring you closer than a bit of fear! Along with Charleston's rich history comes some pretty dark tales, and what better way to hear them than by visiting the sites they took place in, at night. Charleston's ghost tours will take you from old orphanages to gruesome medical centres in search of the ghosts that haunt them. Prepared to snuggle up that little bit closer as you try not to show your fear!
---
Charleston Waterfront Park
One of the most romantic things to do in Charleston at night is to visit Charleston's Waterfront Park. And the really great thing about this – it will cost you absolutely nothing! Take a stroll under the oaks, or sit on the swinging bench on the pier and watch the moonlit sea. Just watch out for those mozzies!
---
The Most Romantic Restaurants In Charleston SC
If there's one thing Charleston does well, it's food. There are no end of incredible places to eat and drink in Charleston, but we've put together some of the most romantic.
Splashing Out
These restaurants may be expensive, but they might just be worth it for the one you love!
Circa 1886 Will Provide The Perfect Romantic Meal Out
Tucked within the original carriage house of the Wentworth Mansion, Circa 1886 is one of the most romantic restaurants in downtown Charleston. Although the building retains its classic charm, the food here has a modern (and delicious) twist. Circa 1886 regularly ranks among the finest restaurants in downtown Charleston SC, and the prices reflect this! It's somewhere to go for a really special romantic romantic evening.
---
Charleston Grill
Said to be one of the most esteemed Charleston restaurants, the Charleston Grill is another of Charleston's best. They won the Forbes Four Star Award and the AAA Four Diamond Award for food excellence, so you know you're in for a treat on a visit here. The Charleston Grill mixes incredible food with the sound of jazz, for a truly authentic feel.
---
Head To High Cotton For Some Charleston Romance
Here you will find some of the finest seafood in Charleston. Their lowcountry dishes are made with some of the finest ingredients, to create some really special food. Again, it ain't cheap here, but then you do pay for quality!
---
Mid Range
If you're looking to impress, but not go overboard then these restaurants offer quality without breaking the bank.
Le Farfelle
Mmmm Italian. Personally, I love Italian food, and for me it's definitely the food of love. It's not very local though, so you might want to try some proper lowcountry dishes before heading here! This Italian restaurant is nestled downtown in quaint Harleston Village. We love it's outside dining, incredible food and outstanding cocktails!
---
Bin 152
If you're looking for something light then head to Bin 152. This is Charleston's oldest and most respected wine bar, located in the heart of downtown Charleston in the French Quarter. They offer 40 different wines by the glass and over 200 wines by the bottle. They have 40 different cheeses and charcuterie all served a la carte with freshly baked bread. Sounds perfect to me!
---
Magnolias
Magnolias is a reasonably priced restaurant with a great vibe. They serve classy but traditional food in an ambient setting, so this is a great place to head if you're looking for affordable local cuisine.
---
As you can see, the most romantic things to do in Charleston really do come in all shapes and sizes. If you can't find something romantic to do in Charleston then you won't find it anywhere! I guess there's a reason why Charleston is one of the most popular wedding and honeymoon destinations, and if you're planning a romantic wedding here then hopefully you've come away with some great inspiration for romantic things to do in Charleston!
Looking For More?
Let us know in the comments below what romantic things you have planned for your visit here! And follow us for more travel inspiration and ideas.
Check out the most romantic things to do in Charleston story version.