You may be surprised to find out that Hunting Island State Park SC is South Carolina's most popular state park. It's easy to see why more than a million visitors a year are drawn to this little slice of paradise, and why such a wide variety of land and marine wildlife choose to call it home.
Hunting Island State Park SC boasts five miles of wild but beautifully kept beaches along with thousands of acres of marsh and forest land. It even has a saltwater lagoon and a beautiful lighthouse turned museum.
From the moment we arrived in Hunting Island State Park SC I knew we had stumbled across something special. As you drive through the near empty forested roads you begin to feel far away from civilisation, and stepping on to the beach was a moment I will always remember. This state park is truly something special.
How To Get To Hunting Island State Park SC
Hunting Island State Park is located near the southern tip of South Carolina. It's the perfect stop off on a road trip from Charleston to Savannah, as it's pretty much half way between the two.
The best way to reach Hunting Island is by car, but if you were feeling energetic you could cycle there from Beaufort in a few hours.
To reach it from the south, take Exit 33 (Point South) and follow signs for Beaufort and US Highway 21. Stay on Highway 21 to Hunting Island State Park. From the north take Exit 8 (278 East) and follow signs to Beaufort, then turn left on State Road 141, just after the Auto Mall on the left. Turn left again on Highway 170. Stay on 170 until you cross the Broad River Bridge. Turn right on 802, and go past Parris Island. Turn right at the second light (continuing on 802). Follow 802 over Lady's Island Bridge. Turn right at US Highway 21 and follow to the State Park.
Things To Do At Hunting Island State Park
Visit The Lighthouse
The Hunting Island State Park Lighthouse is the only lighthouse open to the public in all of South Carolina. The lighthouse itself is beautiful, and a must visit for anyone visiting Hunting Island. I wasn't surprised that I fell in love with the outside of the lighthouse – there's something dreamy and romantic about these incredible structures.
What I was surprised about was how interesting the exhibition inside the lighthouse was. It details the lives of the people that have lived in the lighthouse over the years, and it's so fascinating to read about the lives they lived being in such a remote and isolated place. Perhaps it helped inspire me to chase my lifelong dream of moving aboard a sailboat full time! It's certainly an inspirational exhibition, and very humbling to realise how lucky we are to have the luxuries we do.
You can get to the top of the lighthouse via the winding staircase (don't look down!) and take in the views from 130 feet above the ground. The beach and Atlantic sea from this high up look just breath taking, and from here you can see just how huge the surrounding forest is.
Admission Price: $2
Watch The Sunrise From Hunting Island State Park Beach
When I stepping onto the beach at Hunting Island State Park I felt as though I had walked onto the set from Jurassic Park. It is just spectacular. The beach stretches out on both sides, fringed by dramatic forests and cliffs.
Walk along the beach towards the campsite and you'll find the section where many trees were washed into the sea by a storm that hit. Although it was sad for the trees and wildlife, what it has created is a work of art. The sea beaten wood gives the beach even more character and it's a beautiful place to be for both sunrise and sunset.
Take A Trip To Hunting Island State Park Nature Centre
The Hunting Island Nature Center is a must visit on your trip to Hunting Island State Park. You can find it at the entrance of the fishing pier and it houses live reptiles and exhibits which show the parks natural resources. There are daily tours led by knowledgeable guides which are really worthwhile if you want to know about the exhibits in more detail.
You'll have access to the pier from the Nature Center, and it's a great place to try and spot dolphins or bird life. It's also a really scenic and relaxing place to just hang out at for a bit.
Opening Times: Tuesday – Saturday, 9am – 5pm year-round (extended to seven days a week during the summer).
Admission Fees: If you've paid the entrance fee for the beach or the State Park camping pass then admission is free. If not there will be a small charge for entrance to the Nature Center.
Visit The Marsh Boardwalk To Watch The Sunset
The Hunting Island State Park marsh boardwalk provides the perfect platform for viewing the marshland wildlife up close. Keep your eyes peeled for several different species of crabs, a huge variety of birds included great blue herons, bald eagles and hawks, deer and even dolphins if you're really lucky.
We heard the dolphins have been known to hunt mullet in the shallow water, grouping them together and driving them towards the mud bank to beach their prey (and themselves in the process!) Once they've had their fill they wriggle back into the water.
The marsh boardwalk is really quite beautiful at sunset, so try and visit at this time if you can.
The Hunting Island State Park marshes are actually pretty famous, as they were used for some of the Vietnam war scenes in Forest Gump. See if they look at all familiar on your visit here!
The marsh boardwalk is located on the west side of the park on Hwy 21, but there are signs everywhere if you're unsure.
Trek One Of Hunting Island's Many Trails
Lagoon Access Recreational Trail: This trail is 1.4 miles long and is suitable for hikers or mountain bikers. It starts at the 'J' carpark and heads through the maritime forest and along the lagoon. You'll get amazing views of the lagoon and if you're quiet enough then you're bound to spot lots of wildlife on the way.
Maritime Forest Trail: This trail is 2 miles long, taking you straight into the dense forest of Hunting Island State Park SC. The forest is home to deer, raccoon, hawks and owls, along with many other animals. It's an enjoyable walk and is mostly in shade, so it's a great way to escape the midday sun!
Lighthouse Magnolia Forest Trail: At only 0.6 miles long, this pleasant walk will take you from the campsite to the lighthouse without having to set foot on the roads around the park. There are several different types of landscape along this walk, so it's an interesting one to to, and a short one too!
Diamondback Rattlesnake Trail: This trail is the hardest of all the Hunting Island State Park trails. It's 2.3 miles long and starts at the visitor center. It is moderately strenuous, with some trickier parts to it, so make sure you have some water and other supplies with you before you set off. We didn't see any rattlesnakes, and here's hoping you don't either!
Go Fishing At Hunting Island
You can go fishing in Johnson Creek, the lagoon or off the beach. If you're fishing anywhere other than the pier then you'll need to get yourself a saltwater fishing licence. The fishing pier is at the southern end of the park, and is a lovely place to go even if you aren't planning on fishing there.
Redfish, whiting and croaker are common at Hunting Island, as well as the occasional barracuda.
You can hire equipment from the Nature Center, which loans out rods and reels. It's open from 9am-4.30pm. You can buy other fishing equipment in the campground store.
Enjoy A Picnic With A View
Being English, I am well versed in picnics on the beach. In my opinion the best way to enjoy a picnic is to get down and dirty in the sand (cucumber sandwiches just aren't the same without that extra sandy crunch!)
However, if that doesn't sound appealing not to worry. There are picnic benches set up in various places along the beach so that you can enjoy your picnic in a little more style. They look out onto the wild and rugged beaches and the Atlantic sea, so you won't be compromising on views.
If you're planning something a little more special then you may want to reserve a picnic shelter for $100-200 per day. The shelter has electricity, power, outlets and lighting. To make a picnic shelter reservation you can call toll-free on 1-866-345-PARK (7275) or reserve online.
Take A Dip In The Atlantic
We had an amazing time body boarding through the waves (you can buy one for a reasonable price in the gift shop near the lighthouse). I expected the sea to be a lot colder than it was, being the Atlantic and all. Actually it was a welcome relief from the South Carolina summer heat!
Swimming is permitted at Hunting Island State Park but at your own risk. You should note that there is no designated swimming area and no lifeguards on duty.
Venture Off On A Bike Ride
Take your bike with you on your visit to Hunting Island State Park SC and take one of the many walking trails listed above, which double up as bike trails. You have 8 miles of trails to explore here!
Go Paddle Boarding At Hunting Island
If you're feeling energetic then why not paddle the Lowcountry at Hunting Island. Beaufort Land's End Paddling offer stand up paddle boarding and kayak instruction, from the more experienced to the complete beginner. They have a range of different tours, such as fishing from a kayak or sunset tours.
Wildlife At Hunting Island State Park SC
Hunting Island State Park is home to a whole host of wildlife. Keep your eyes peeled for loggerhead turtles, which nest on the island in the summer months. If you take one of the paddle tours you can opt to walk along the beach that the turtles nest on. Around the freshwater ponds you can find deer and alligators, raccoons and eastern diamondback rattlesnakes.
Bird watchers will be in heaven here, with hundreds of species of birds. You can spot pelicans, oystercatchers, skimmers and terns, herons, egrets and wood storks to name just a few. Just make sure you bring your binoculars!
Where To Stay
Cabin Accommodation
There is one cabin available for rental at Hunting Island which sleeps up to 6 people. It has an outside grill and picnic table so you can enjoy those long summer evenings, and is well equipped inside. You can make reservation for the cabin here.
Camping At Hunting Island State Park
There is a large campsite at the north end of Hunting Island, right next to the beach. It has space for over 100 tents and RVs, and has hot showers and toilet facilities.
We didn't actually stay here but we did have a good look around, and it looks like the perfect place to camp location wise. You'll be practically on the beach, with the place to yourself come the evening. We got the impression that people who come here once return over and over again, and it was a great place to meet others who know the area well and can give their top tips!
You can book online here.
Something A Little More Luxurious
If you're looking for something a little more luxurious then consider staying a short distance from Hunting island, on nearby Fripp island or the surrounding area. There are some great holiday home options, like this holiday home with free access to bikes and a fitness centre, or this villa with direct access to the beach.
Must Knows Before You Go
Hunting Island State Park SC Opening Hours
6 a.m. – 6 p.m daily (extended to 9 p.m. during Daylight Saving Time)
Admission Price
$8 adult
$5 SC seniors
$4 child age 6-15, free for children 5 and younger
Pets
For conservation reasons, pets aren't allowed in the cabin or the cabin area, on the pier or inside the lighthouse area. Dogs are not permitted on the tip of North Beach past the posted markers, but are allowed in most other outdoor areas provided they are kept under physical restraint or on a leash not longer than six feet. We thought it was great that Hunting Island State Park was so hot on protecting it's wildlife. It would be such a shame to see such a beautiful place tainted.
Getting Supplies At Hunting Island State Park
There is a park store located in the campground that is open all year. It sells some limited grocery items, souvenirs, snacks and drinks. The Lighthouse Gift Shop can be found on the North Beach across from the lighthouse and it sells gifts, snacks and drinks. It also sells a small variety of beach games, and it's where we bought our body boards to enjoy the waves!
Wifi Available
Complimentary wifi is available at the park visitor center, lighthouse shop and the park store located in the campground. It is also available across the entire campground. Hopefully you won't need to use it too much – you are on vacation after all!
Closure Warning
We have heard that equestrian beach access is closed at Hunting Island State Park until December 1, 2020, due to a beach re-nourishment project. A portion of the pier is open, however, no fishing or crabbing is allowed at this time.
Hunting Island State Park SC is in amazing condition, and that's due to closures like these and people working hard on preserving the park, it's wildlife and it's beauty. We hope it won't put you off visiting this incredible area.
Where To Next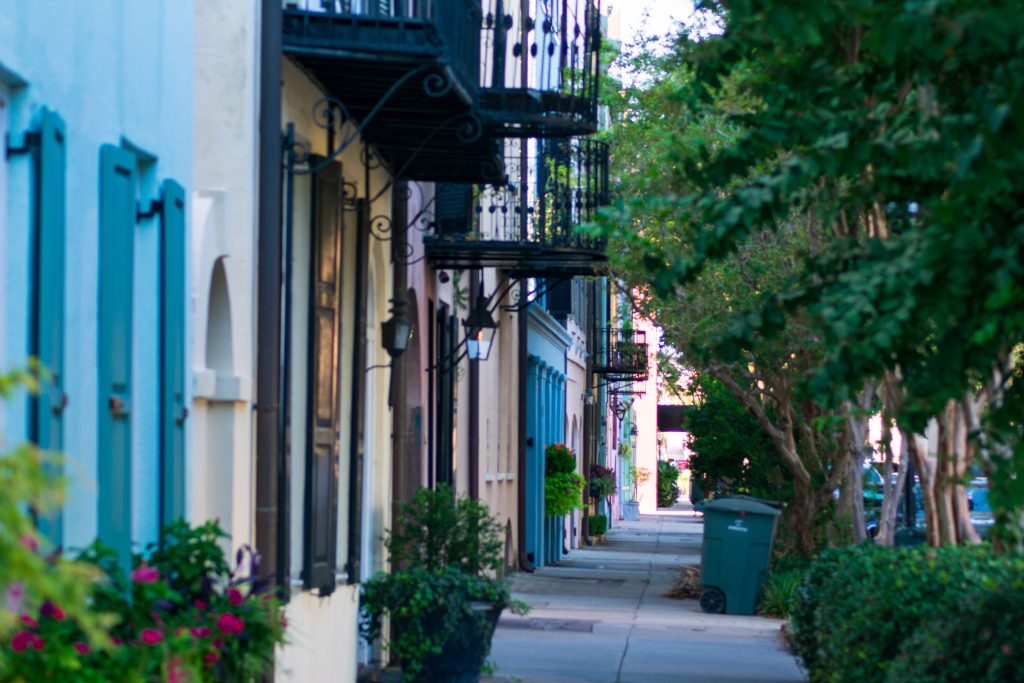 Hunting Island State Park SC is only about half an hours drive from the pretty historic town of Beaufort. With it's moss-draped oak trees and beautiful Antebellum houses, this place is worth more than just a day of your time. If you aren't keen on camping then Beaufort is the perfect place to stay for your visit to Hunting Island.
If you're off on a bit of a road trip then consider heading up the coast to Charleston SC. Charleston is one of the most romantic places we've ever visited, and is full of interesting and exciting things to do. Arriving in Charleston was like arriving onto a movie set, and it remains one of my favourite places in America so far. It's a must visit if you have the time!
If you're planning a trip to Hunting Island State Park SC then let us know in the comments below. We'd love to hear from you!