There were times last year when we got a little lonely. Well, not really lonely, we always had each other, but sometimes we needed a little extra company to stop us from driving each other insane. Some of our best memories are of the people we met cruising last season but we missed familiar faces and were keen to invite more of our friends out this season.
It turns out we have a few friends who are either adventurous or stupid enough to join us on board and we slightly unintentionally ended up fully booked until mid September. We were feeling pretty relaxed about the whole thing. We had a season under our belts and we knew what we were dealing with.
We were looking forward to showing them the highlights of sailing life and teaching them a little about sailing and life aboard. We had prepared them for a lack of water and the fact we couldn't sail to their schedule. We even explained how we might struggle to anchor at times or have to wait onboard in high winds. We didn't prepare them for any of the many near disasters we experienced, but as it turns out, we didn't really need to!
Misadventure Number 1 – Dragging Anchor
We left the lovely sheltered bay we'd enjoyed for my birthday in search of internet signal for Adam's working week. Unfortunately the only reliable internet connection turned out to be in Seriphos town, a place that we'd read was renown for bad holding and gusty winds. Perfect.
We hadn't fitted our new anchor at this point, but we had little choice but to give anchoring a try and hope for the best. We set the hook and motored back. Hard. We weren't going anywhere, but the winds were high and we didn't want to tempt fate so I stayed on watch all day while our crew went to shore and Adam worked his socks off.
That night we experienced really high winds. Probably the highest we'd ever seen at that point. We took turns doing night shifts, watching boats around us drag and reset. We stayed put and were feeling pretty chuffed, but you know me (ever the worrier) so as the sun rose and Adam went to bed for a few hours before starting work I watched the chart plotter like a hawk. I pondered how our crew members were managing to sleep through the 40knt gusts that frequently threw the boat back hard on the anchor chain with a thud and rocked the boat from side to side furiously.
Just when I thought we were holding an extra strong gust hit the boat and I knew without even checking that we were dragging. Luckily we were dragging out to sea with nothing behind us, so I sat and watched out of curiosity to see what would happen. We moved pretty quickly, at around 1knt, in an almost straight line backwards. It was time to wake Adam up, get the engine on and reset.
Our crew emerged a few hours later. They'd had a great nights sleep and were confused when we told them we'd pulled up 50m of chain into their cabin. They're only complaints were a few extra mozzie bites – not the few extra grey hairs and dark bags under the eyes they were now staring into!
Luckily the anchor bit first time and we didn't move an inch for the rest of our 3 night stay. Anchor watches were purely to watch for the other boats flying backwards at all times of the day and night – not an anchorage I would recommend to anyone wanting a sound nights sleep – except if you're anything like our crew!
Misadventure Number 2 – A Runaway Dinghy
To be fair to our crew, we all slept through this one. Maybe because our dinghy is a silent ninja, or maybe because of the shots of ouzo. We will never know!
After a lovely meal ashore we motored back to Hot Chocolate in our dingy dinghy. Unknown to us, it would be for the very last time. The blame here lies with us all (except Jodie, as she frequently reminded us throughout their two week stay). Thom, an avid climber, tied the dinghy to the boat and checked with Adam that he'd tied the right knot. 'You're a climber, I trust your knot tying skills with my life!' Adam was perhaps a little too trusting, or a little too drunk. I certainly wouldn't have been trusting either of their knot tying skills at this point in the evening. With this in mind, I made a mental note to check Thom's knot before heading to bed. Then I headed to bed. Without checking.
We awoke to a sheepish looking Thom. 'We've got a big problem guys – the dinghy's gone'.
All last season we picked anchorages that would mean the wind should be blowing us off shore. All last season the wind veered during the night to blow us onto shore. We had been amazed to arrive in an anchorage where the wind consistently blew us out to sea, and had some of the best nights sleep of all here, safe in the knowledge that no harm could come to the boat.
Our dinghy had taken this opportunity to make a clean break. She floated off to Crete, never to be abused by us again.
The only thing we could do was to head out downwind and have a look. We didn't have high hopes, but there was nothing to lose at this point. We gave up after an hour of searching as the wind was building and the seas too. We motored straight into wind to get back into the safety of the anchorage. The bow slammed into every wave, and we all started to get a little anxious about the fact Jodie hadn't yet emerged from the forward cabin. Surely she was being thrown around all over the place down there.
About half an hour later she appeared, confused and sleepy. She knew nothing of the lost dinghy and thought we had just headed out into violent seas for the fun of it!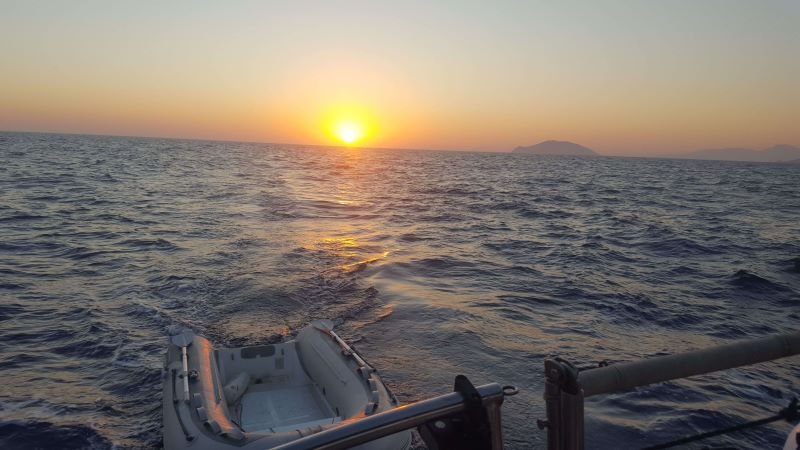 I joke about it now but at the time I was heartbroken. I loved our battered old dinghy because it was something we didn't have to care about. If it got ruined it didn't matter, because quite honestly it couldn't look any worse than it already did. Then there was also the matter of money, and the amount it would cost us to replace it. As you know we're living on a serious budget, and a new dinghy was very far down our upgrade list.
Still, we are now the proud new owners of marshmallow and we tie her off with 50 knots and three lines and if you ever come aboard don't even think about touching her!
Misadventure Number 3 – Engine Failure
This has been the thing I've dreaded most since buying a sailboat. It seemed it was so inevitable that I've just been waiting for it to happen without any idea what I would do. Turns out, this is what I would do.
We've had an annoying leak in the engine for a while from the saltwater cooling system. We were pretty confident it wasn't anything to really worry about, but got a professional to look it over just in case, who confirmed it was more of an annoyance than anything else. Still, we took the opportunity to get our new crew members to bring out the parts we needed to fix it and Adam and Thom took advantage of some high winds to fix it. They did an excellent job. Or so we thought.
As we set off on an overnight passage to Greece we were cautious to keep an eye on the engine. We checked the temperature periodically and had a good look at the engine as we were working it harder. It was all looking great.
About an hour out of the anchorage, just as we were about to get the sails up, I smelt burning. We switched off the engine immediately and Adam confirmed my worst nightmare. The engine was overheating and was out of action until we could get anchored and work out what was wrong. We decided the best plan was to head back to the anchorage we had just come from under sail, where we knew the bay was wide and the holding good. There was just one problem – it was straight into wind.
We tacked back and forth for about an hour, making very little headway in a building sea. We were stressed and anxious, and this wasn't helping. We checked the charts and decided on a new route downwind. The forecast was perfect for a sail down to Ios where there was a bay that looked big enough to sail into. We flew downwind with 30knts behind us, pleased with our new plan of action but not out of deep water yet!
Adam and I tried to stay calm, quietly discussing our strategy and talking through our plans to make sure we were doing the right thing. Jodie napped. In fact, she had such a peaceful sleep that she didn't wake even as the wind died and the boat was left bobbing around uncomfortably in the big seas.
The wind picked up just in time and we managed to sail into the anchorage, using the engine in a short burst to get us into what we hoped was the perfect position before motoring back hard to be sure the hook was set. We wanted to be really sure before we potentially disabled the engine completely. Luckily we held first time, the boys found the problem quickly and we held beautifully through over 50knts of wind! Another sleepless night for Emily, another dreamy night for the crew!
Misadventure Number 4 – Dragging Into The Rocks
Our forth and final sailing misadventure that our crew slept through soundly. This time we had my brother on board and we had just arrived to the island of Symi. We had light winds forecast and thought it was the perfect opportunity to anchor somewhere a little more remote. We checked out three bays when we arrived, all of them very, very deep. We only have 60m of anchor chain, and we like to put our 5:1, so finding somewhere we felt safe to anchor was proving tricky. We eventually found depths of 18m and the anchor held well when we motored back, so with no forecast wind and a line to shore we were feeling confident.
At around 10pm, just as darkness had descended, the winds started to pick up. No matter how safe I feel I find it very hard to sleep through high winds, so I went to bed early to get in an hour or two while the others were up. I asked Adam to wake me when he came to bed if the winds hadn't died down. He woke me around midnight to let me know it was still windy, but we weren't going anywhere and I should try and sleep.
Luckily for all of us I'm way too anxious for that. I said I'd sleep in the cockpit just in case, and as I lay there under the stars the winds rose and rose until we had huge gusts of 50knts on the beam blowing into the little bay. We slowly but surely started to drag towards the rocks and I woke Adam in a rush. We motored out of the bay into frequent 50knt gusts, having to work the engine hard with the wind knocking the boat even without sails up. We decided quickly that we had two options – Head back to Rhodes to the safe anchorage we knew about, with no idea whether the wind was equally as high out at sea, or head to a bay further down the coast that apparently had shallower depths and wait it out.
We'd never usually anchor in an unknown bay in the dark, but we decided it was the best of two bad options and motored half an hour away to the little bay. The shallowest depths we could find were 15m, and that meant tucking right into the cove leaving us very little swinging room. But on the plus side, the wind in the bay had died completely and the 50knts was now 5. We dropped anchor and took turns to watch the boat as an occasional gust pushed us towards the rocks and we had to motor away. Not ideal.
My brother, asleep in the bow of the boat where the anchor chain falls, slept through about x5 picking up and dropping of the anchor, Adam and I shouting over the wind and half an hour of motoring through big seas!
At this point you're probably wondering what on earth we've been doing this season, and the truth is we really aren't sure! The problems we had last season seem so minor in comparison, and yet at the time they felt so huge. Problems I felt sure we couldn't handle have been thrown at us and we've had no choice but to solve them.
I'm sure there are many experienced sailors out there who would scoff at the decisions we've made, but we're proud of how calm and rational we managed to stay. Through all of these incidents I wondered how our crew managed to stay so relaxed – to sleep through our sailing misadventures as though nothing unusual was happening. I drew a few conclusions, and patted myself on the back a few times too!
Sometimes ignorance really is bliss. When the wind changes, either direction or speed, Adam and I feel it instantly. If we are ashore and I start feeling anxious, it's almost always because the wind has picked up. The slightest flap of the sails has our attention. A strange noise below or an unusual smell and we're immediately up and searching. If you've never been on a sailboat then everything is unusual, or rather nothing is notably unusual. You are blissfully unaware of the good and the bad, and your only pointers towards an emergency are the reactions of the skipper.
At some point, in some way, we must have gained the trust of our crew. If you don't feel safe then you stay alert, and if you feel safe then I guess you go to sleep! I took it as a huge compliment that our crew managed to sleep through some of the scariest moments on board that Adam and I have experienced. They trusted that we would keep them safe, and that we would instruct them clearly if we needed their assistance. They knew the safety procedures if anything was to go badly, they knew we were fully prepared for any eventuality and we had fully prepared them just in case. Ultimately, they reacted off our reactions. However we were feeling, we managed to stay calm and rational and deal with our sailing mishaps quickly and effectively.
As you've seen from these posts, I can be pretty hard on myself. I don't always trust in my own abilities and I question the decisions I make. Adam finds this hard because on board we're a team, so criticism of me is also criticism of him. In this post I will do the opposite. I will praise our handling of these different situations. Mistakes were made for sure, but they were also dealt with effectively. So effectively that we won the trust of our crew, and didn't give them a single night to remember!