Ragusa Ibla is one of Sicily's most beautiful towns. Make sure it's on your Sicily bucket list.
Even in the rain, Ragusa Ibla-Sicily's UNESCO world heritage site is beautiful. We visited on a rainy afternoon, without high hopes. There was little information in our guide book, and from the few months we had been staying in Marina di Ragusa we had heard very few good things about it.
People seemed to much prefer the more famous Syracuse, so we didn't hold high expectations for our visit here and in fact, it was only the rain that forced us here in the first place! It turned out to be one of our favourite spots, even after two months of living Sicily, and we are thrilled that the rain led us here.
We discovered there are two sides to Ragusa. Ragusa Superiore, the modern day Ragusa full of shops and businesses and Ragusa Ibla, the old town. The modern town was built higher up the mountain after an earthquake destroyed most of the old town in 1693. It was rebuilt and the two towns merged to become the provincial capital in 1927.
We enjoyed Ragusa Ibla the most, as it is full of history and charm. Make sure you give this area a decent amount of your time, as it is by far the prettier of the two areas.
---
Quick Guide To Ragusa Ibla
---
A Little History
Like all of Sicily's best tourist destinations, Ragusa Ibla is steeped in history. In 1693 Ragusa was devastated by a huge earthquake, which killed around 5,000 inhabitants. The city was largely rebuilt, and many beautiful Baroque buildings remain in the city. However, after the earthquake most of the population moved to a new settlement called "Ragusa Superiore", meaning upper Ragusa, due to the fact it was up on the hill.
The two cities remained separated until 1926, when they were fused together to become a provincial capital in 1927. The difference between the once two cities is still obvious, with Ragusa Superiore being more modern and where a lot of the commercial industries are based. Ragusa Ibla is very much the tourist attraction with it's incredibly beautiful baroque buildings and churches.
---
Where Is Ragusa Ibla?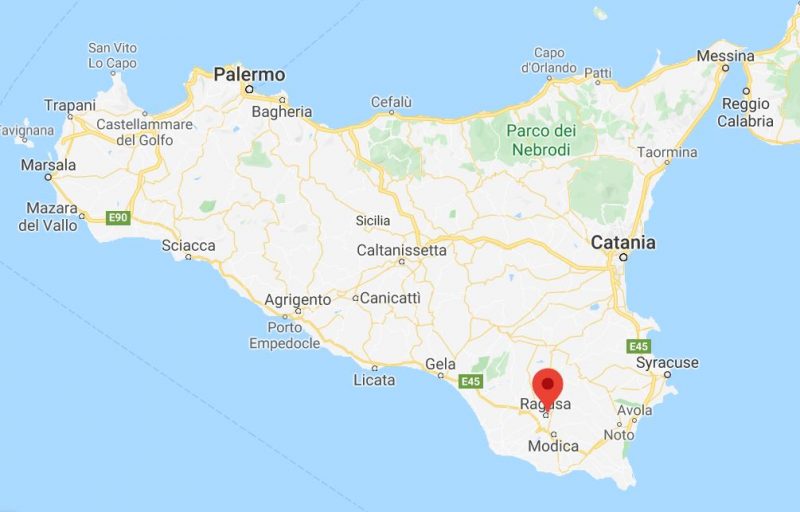 Ragusa Ibla is in the southern 'nose' of Sicily, and is the perfect place to stay if you're planning on doing day trips to some of Sicily's iconic sights. From Ragusa Ibla it is easy to reach Syracuse, Catania and Mount Etna, and go over the the Valley of the Temples and The Turkish Steps.
We were based just half an hour from Ragusa Ibla during our two month stay in Sicily and we found it the ideal location for getting out and exploring the country.
---
When To Visit Ragusa Ibla
We visited Ragusa Ibla in the pouring rain and it was still breath-takingly beautiful, so whenever you decide to go I have no doubt that you will have the most incredible time! That being said, if you do have a choice of when to go then here are some things to bear in mind!
Sicily gets very hot! The summer months may seem like the ideal time to visit Ragusa Ibla, but in reality Sicily really does get scorching in the months of July and August. This doesn't mean it's not one of the best times to visit – the sun will almost certainly be shining for your visit – it just means plan around the heat of the day and perhaps don't squeeze in too much (a long boozey lunch should definitely be scheduled in!) It's also the time of year that Ragusa Ibla will be at it's busiest with school holidays in full flow.
The shoulder months of Spring and Autumn will be a little less predictable weather wise but also less crowded (unless visiting over Easter). It will be cooler too, though in September the sea will probably still be nice and warm if you're planning a little beach time.
Winter was mostly sunny but cooler. For those used to the English winters you'll probably still be fine in just a jumper, though the locals are all dolled up in huge coats and hats! Be aware that there can be some big winter storms over the winter months, but don't let it put you off. Sicily is beautiful no matter what time of year you visit!
---
What To Do In Ragusa Ibla
Ragusa Ibla is set in the hillside. It is a mass of beautiful stone houses and baroque churches and we are not exaggerating in saying we could have wondered the fascinating alleyways here for hours, each one full of character and charm. There is a lot to see here, a lot of it in the form of churches and historic buildings. But if history isn't your thing then not to worry, we've included some alternative suggestions of things to do here too so no one will be bored!
---
Ragusa Cathedral In Ragusa Superiore
Start off in Ragusa Superiore (this is where you'll end up if you come on the bus and where you'll find most parking, see below for details). Ragusa Cathedral is located in Ragusa Superiore. It is also known as the Cathedral of San Giovanni Battista or Cattedrale di San Giovanni Battista, translated as the Cathedral of John the Baptist. The church was built in the 18th century and is very similar in style to most of the churches you will find in Ragusa Ibla. It has some cute cafes around it if your legs are getting tired!
Opposite you will find the tourist office who are very helpful and informative. Grab a map from here and get exploring!
---
Take In The Views
Once you're armed with a map then walk towards the old town of Ragusa Ibla. You will hit a long winding set of steps that leads you down into the old town, and the most incredible view of all the beautiful old buildings. It is these same views that were used many times in the hit Italian detective series, 'Inspector Montalbano'. The photos don't do the view justice. It's a stunning sight, with the pastel coloured houses rising on top of one another and the hills stretching out beyond.
If you stay until it starts to get dark then you will see the old town lit up with the orange glow of street lights, making it even more magical than it was in the day. We would suggest you visit Ragusa Ibla in the afternoon so that you get the daytime views on the way down and the evening views when you come back up.
---
The Church Of Santa Maria Delle Scale – Between Ragusa Superiore And Ragusa Ibla
The Church of Santa Maria delle Scale is sat between Ragusa Ibla and Ragusa Superiore, on a winding street that connects the two parts of the city. If you walk down the stairs from Ragusa Superiore to Ragusa Ibla you can't really miss it. Santa Maria delle Scale actually means "St. Mary of the Stairs", since the church is located along the stairway.
It's a pretty spot to take a photo or two. The church was built in the Gothic style by Cistercian monks in the 13th century but in the 18th century, the church was enlarged and rebuilt in the popular Baroque style.
---
The Basilica Of San Giorgio
The Basilica di San Giorgio was built in 1738 by Rosario Gagliardo. It lies at the top of some 200 steps and has an impressive neoclassical dome that was added in 1820. This dome can be seen from many points all over Ragusa Ibla, so you shouldn't have trouble finding your way back to the square it lies in!
The facade of the church is an excellent example of Sicilian Baroque architecture and one of the main reasons Ragusa is designated a UNESCO World Heritage Site for its Baroque art.
---
San Giuseppe Church In Ragusa Ibla
Built in the 18th century, the church of San Giuseppe can be found in Ragusa Ibla (the historic old town) and stands out because of it's especially fancy Baroque facade, which is decorated with statues of the Saints of the Benedictine orders.
---
The Church Of The Souls Of Purgatory
Chiesa del Purgatorio is one of the only churches to have survived the earthquake of 1693 and dates back to the early 17th century. Again, it is a stunning example of the baroque architecture that Ragusa Ibla is so famous for.
---
Santa Maria Dell' Itria
This is one of the older churches built in Ragusa Ibla, dating back to the 14th century under the direction of the Knights of Malta (a medieval Catholic military order). The church features a stunning Maiolica bell tower and a beautiful interior with Corinthian columns. It is a little different to the other churches you will find in Ragusa Ibla and so is worth a little look!
---
The Church Of San Filippo Neri
The Church of San Filippo Neri was again, built in the 17th century and is another example of Baroque architecture in Ragusa Ibla.
Top Tip: If you leave wanting more history then it would be remiss of me not to mention Sicily's incredible Valley of the Temples. Only a few hours drive from Ragusa and full of ancient wonder, this historical site will not disappoint.
---
Time To Relax
If you're feet have had enough of sightseeing then The Piazza Duomo, overlooked by the stunning Duomo di San Giorgio, makes for a beautiful spot to nurse a coffee (or something a little stronger!) Or grab a cold drink from a local newsagents and head to the Giardino lbleo. The Hyblean Gardens are an unexpected corner of peace and tranquillity and they also offer some beautiful views.

Ragusa Ibla is full of boutique shops and souvenirs. You could spend an afternoon pottering around the little alley ways and exploring what the shops have to offer. Mixed in among the shops there are numerous cafes and restaurants offering a range of food and snacks for a variety of prices.
---
Where To Stay In Ragusa Ibla
There are lots of beautiful places to stay in Ragusa Ibla, but here are a few of the best!
You can stay right in the centre of Ragusa Ibla for all the romantic atmosphere, as Intervallo Guest House is situated in the historical centre of Ragusa. There is free WiFi throughout the property, a shared kitchen, a terrace with panoramic views and BBQ facilities. Head here for more information and prices.
---
A central location and a garden to die for. In fact, you probably shouldn't stay here or you'll never leave and explore the beautiful town! This is definitely the place to stay in the summer, with a natural pool for lazing in while you read, hammocks overlooking the incredible views and swish boutique rooms. Head here for more information and prices.
---
For pure luxury head to Locanda Don Serafino, a 19th-century building set in the heart of Ibla, Ragusa's historic centre. It is only a 5-minute walk from the San Giorgio Cathedral, and check out those rooms!
---
Where To Eat In Ragusa Ibla
Given the weather when we visited we opted for hot chocolate and pastries and we weren't disappointed. The hot chocolate in Sicily is more like a melted chocolate bar! So it's a must try for those with a sweet tooth!
Check out Salumeria Barocca for some traditional Italian food or Monsu for something a little more extravagant.
---
Need to knows
Top Tip: Avoid wearing shorts and strappy tops if you want to visit the churches here.
How to get there
The easiest way to get to Ragusa Ibla is to drive, much like most of Sicily. There is plenty of parking in Ragusa Superior, just follow the parking signs. From there Ragusa Ibla is a pleasant walk and it will mean you don't miss the stunning view down to the old town.
---
How long to spend in Ragusa Ibla
You could easily spend a day here if you are happy just pottering around the windy back streets. But if you have more to see then a morning or afternoon gives you plenty of time to take in the main sights and get a feel for this beautiful town. If you're short on time then head straight to the old town, which is the most beautiful area of Ragusa.
---
Ragusa Ibla for kids
There are lots for children here so don't hesitate when visiting as a family. Ragusa Ibla's gardens have a large play park that should amuse kids for an hour or two. There is also a mini sightseeing 'train' that you can catch from the main square and some interesting museums to visit.
---
What to bring
The usuals like suncream (or a raincoat in our case!), a water bottle and sun hat.
Money for parking (or an ice cream or three!)
Good walking shoes are a must. Most of the streets are cobble stones so avoid heels at all costs!
---
---
Further Reading
Visit the incredible Valley of the Temples in Sicily. You won't be disappointed!
Follow your visit to The Valley of the Temples with a trip to see the Turkish Steps at sunrise.
Visit Syracusa and make sure you take a trip to the famous archaeological park just 5 minutes from the historic centre.
Leave us a comment or share this post if you enjoyed this guide or have any comments to add, we always love to hear from you!