Opposite the Kephalonian capital of Argostoli but far less well known than many Kephalonia hotspots, Lixouri really shouldn't be ignored. We didn't expect much from this little sea front town, but the laid back feel coupled with stretches of pretty much private beaches made this a highlight of our trip.
Getting to Lixouri
Lixouri seems a pain to reach by car, being tucked all the way round on the finger of Kephalonia. This apparent distance means it relatively quiet compared to many spots, and with a little know how it really isn't hard to reach at all!
If you are heading here straight from the airport then jump on a local bus to Argostoli. This will set you back 3 euros per person and is a pretty journey through the Kephalonia countryside and bordering towns.
The ferry terminal is one of the first stops as you enter Argostoli. Ferries run pretty much every half an hour, and if you have a car they will ferry that across too! Find up to date times and prices here. Find a seat and pay another 3 euros for the scenic 15 minute journey.
If you are staying in Argostoli then Lixouri would make for a perfect day trip, with ferries running regularly and a beach close by, unlike in Argostoli!
Things To Do In Lixouri
Along the harbour front you will find bars and restaurants to suit even the fussiest of eaters. You could easily spend a day hopping from restaurant to restaurant, eating bread and hummus and drinking cheap wine, while watching the sailboats come and go. Compared to Argostoli you will find a welcome sea breeze here that helps during the heat of the day!
The town itself is small, with a few touristy shops and some more convenient ones slightly further out. For all those cruisers, we found a very useful hardware store a few roads down from the harbour which stocked a large range of supplies you may be after. There is also a well stocked supermarket and lots of local food stores selling meats and cheeses.
The town square is the perfect place for families in the evening, when children play together in the large open square and the chatter from large groups and families makes the place come alive.
One of the few buildings that survived the earthquake was the mansion of Typaldoi-Iakovatoi. It is now a library with a rich collection of 25000 books and is the home of many rare publications and other literary treasures.
Follow the sea front road in the direction of the open sea you will find a long stretch of beaches and small coves, most of them completely empty. There is plenty of shade in the afternoon provided by the cliff sides and the water is clear and warm. For the romantic among you, you can visit the Kipouria Monastery in Lixouri which features an exceptional sunset view, or descend to one of the most beautiful beaches of the island that lies below, Platia Ammos which is rarely busy.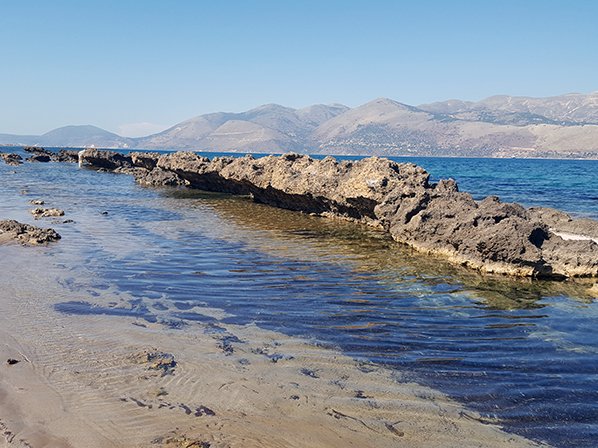 If you want to throw a bit of money at an activity then you will find a range of boat trips at the harbour, ranging from real fishing boat experiences to sunset cruises.
We heard Lixouri is full of music and every night we were treated to an orchestral rehearsal, playing in a building in town with the windows wide open, flooding the streets with incredible music. We later found out the town holds the second oldest philharmonic orchestra in Greece Little surprises like this make you feel like you aren't just a tourist in this very Greek feeling town.
Where To Stay In Lixouri
Apolafsi – This self-catering accommodation is situated near Lixouri town and has its own pool, sun terrace and snack bar. You can rent bikes from here to explore some of the nearby beaches, or arrange car hire if you want to go further afield.
La Maison Bleue – This apartment is in the centre of Lixouri and comes with sea views from the balcony.